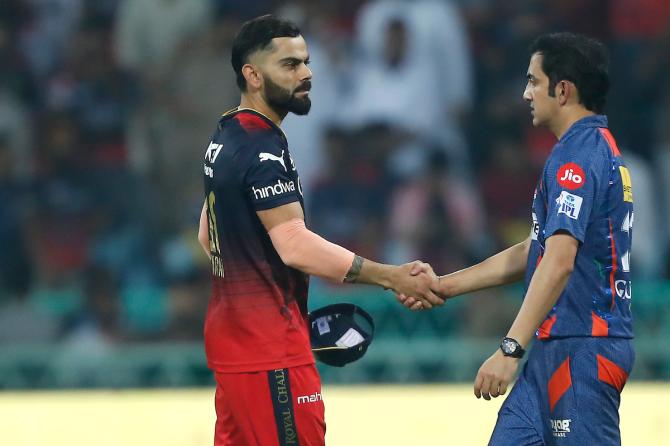 Former England off-spinner Graeme Swann feels the controversial bust-up between Gautam Gambhir and Virat Kohli is nothing compared to what he has witnessed in the fiercely-contested Ashes series, adding that the sport would be "dull" without such incidents.
Kohli and Gambhir had a verbal spat during Royal Challengers Bangalore's away match against Lucknow Super Giants on May 1.
The former Indian skipper was also seen getting into an argument with Afghan pacer Naveen-ul-Haq and Kyle Mayers as the match grabbed attention for all the wrong reasons.
"Let's face it, if there was never any conflict in sport, it would be so dull. Having played Ashes test series throughout my life, this is nothing compared to that," Swann, an expert with JioCinema, said in a virtual interaction.
Kohli and Gambhir, who is the LSG team mentor, faced heavy sanctions and were fined 100 per cent of their match fees for breaching the IPL's Code of Conduct.
Naveen was also charged with 50 per cent of his match fees.
Swann feels there's nothing wrong with Kohli being ultra-aggressive, and opined that he is 'Kohli' because of his passion for the game.
"You should never try to dilute the players so much that they do not wear their hearts on their sleeves.
"One of the reasons Virat Kohli is 'Virat Kohli' is because he's so passionate about his cricket. He's so in your face when he's playing and he intimidates a lot of players.
"Some may think he's going too far. They are massive personalities, who grew up and played together. Gautam is never going to back down to Virat.
"If it spills over off the field and there's swearing stuff then that's wrong. As long as there are handshakes after the game and has not created a bad image on the screen, then I'm all for their passion," he added.
Impact Player to ODI's rescue
The introduction of the 'Impact Player' rule has seen the IPL post a record number of 200-plus totals and Swann believes it should be implemented at the International level, especially in the ODI format, which many believe is dying.
The Impact Player rule, which first came into play in the Indian domestic cricket, allows teams to replace any one member of their playing XI during the match.
"I see it as a success and it should come into international cricket, especially in 50-over format because that needs something to liven it up," Swann said.
"It's nowhere near to T20s anymore. I think it works. There should not be just one player to pick from there should be like a bench like in football you have five subs and at any point of time you can just get one in. I would not have any issue with that ever," he said.
MS Dhoni is still going strong and the Englishman believes there is no reason why this season should by the World Cup-winning captain's swansong. It is widely perceived that the ongoing IPL would be the last time Dhoni would be seen in action.
"Every time he goes into bat, he's smashing sixes. Why this will be his 'last year' is beyond me. If he wants to keep on playing, he can do whatever he likes.
"In my books, he is brilliant with the gloves, brilliant with the bat and his captaincy is still the best in the IPL. I don't think it's his last year, I think he's too big to go."
Asked about Kolkata Knight Riders spinner Sunil Narine's listless show this season, Swann said he's just having confidence issues and the Trinidadian should not be 'written off'.
"I just think he's bowling without the confidence in himself. Sometimes you get that little bit of luck when a bad ball gets a wicket, and it feels right again.
"I'm not writing him off. I will still pick him in my team. When you have (Varun) Chakravarthy and Suyash (Sharma) bowling so well, they can hide him (Narine) a little bit," Swann added.
© Copyright 2023 PTI. All rights reserved. Republication or redistribution of PTI content, including by framing or similar means, is expressly prohibited without the prior written consent.