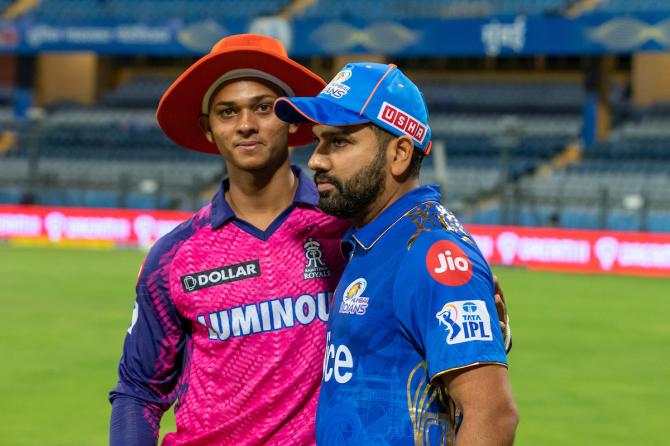 Yashasvi Jaiswal is not the cricketer he has become because he once "sold panipuris" at Azad Maidan but for his sheer hardwork that has pushed him to national reckoning, his childhood coach Jwala Singh, sick of the emotional narrative, said on Monday.
Jaiswal, who smashed 124 off 62 balls against Mumbai Indians, is all but certain to make it to the Indian squad for the five-match T20I series in West Indies and the USA in late June-early July.
However despite his powerhouse performances in past couple of seasons, always the first thing that is viral on social media is the story that he had to sell panipuris to earn a living in Mumbai.
His coach Jwala, who took Jaiswal under his own wings, back in 2013 and the young boy stayed at his residence gets very annoyed when this particular story gets precedence over his cricketing achievements.
"I really don't like the story (selling panipuri). He is playing cricket because of hard work," Jwala told PTI during an interaction on Monday.
In fact, he did clarify the urban myth that is only getting more traction with each passing day.
"Many sellers set up their stalls near the Azad Maidan. Sometimes when he would get free in the evenings, he used to help them a bit. He did not set up a stall himself. It is not that he sold panipuris and went on to play for India," Jwala was cut-throat in dismissing the whole 'sob story'.
In fact, Jaiswal's father Bhupendra words still rings in Jwala's ears.
"I met his father on December 25, 2013. He told me that I have made a God-like intervention in their lives. "Aap isse jhaadu lagwao, pocha karwao, Bas isko apne sath rakhna aur cricketer banana." (Make him sweep and mop the floor but keep him under your wings and make him a cricketer."). It was as if his parents gave me his power of attorney saying he is completely under you."
For better part of last 10 years, Jaiswal has stayed at Jwala's residence with his family.
"Since I had a stable life in Mumbai, I treated him like my own son. After 2013, there has been no such incident where he would have had to struggle. I got him his first bat contract worth Rs 40,000.
"I got him those bats which international players would use. There is no angle of poverty here after 2013. Whatever was, was before 2013. Because of these stories, at times, both he and I both get frustrated."
Jwala had in fact once sent Jaiswal to England so that he can upgrade his technique.
"Whatever I did, I did on that trust. In fact I even sent him to England on my own expenses. I worked with him as a father and not a coach.
"I feel that (panipuri) is an unnecessary discussion. Whenever someone starts his career, there is some angle of poverty, even I had. I sold newspapers, slept on the train. But when I met Yashasvi I did not even ask him any of it. I don't want to make fun of anyone's poverty. Now it feels nice that he "sold panipuri and played for India", but back then the same statements would have upset him."
About the viral video of him selling panipuri, Jwala said that after his story became viral, some TV channels wanted his shots of selling panipuris.
"A lot of photos have also gone viral. Him standing at a stall, we had a shoot (with broadcaster and private news channel) and they requested me to make him show how he sells panipuri. In a light mood, I told him, "khade ho ja, kar de". But never has his father been here in Mumbai or has sold panipuri."
"Many others had big roles to play in Jaiswal's career. Mumbai legends like Dilip Vengsarkar, Wasim Jaffer, his school, club and Mumbai Cricket Association (MCA) gave him ample opportunities with coaches at different age groups. His story is of hard work to become a cricketer with proper planning," said Jwala.
"His story is purely of hard work, using facilities to become a cricketer and of proper planning. I planned for him and he executed. I feel this should be talked about more and not the poverty angle."
When players of stature of Kumar Sangakkara and Trent Boult lauding his talent and India skipper Rohit Sharma showering accolades, the India call-up in shortest format might not be far away but the childhood coach has full faith in national selection panel's judgement.
"He has performed right from the U-19 level. A lot of guys got entry one or two years after their U-19 World Cup, such as Shubman Gill or Prithvi Shaw. It (his selection) might have been delayed due to COVID-19 but as a player you cannot decide what you should get.
"The Indian team selectors and team's think-tank are smarter than us, they know the abilities of each player and what is the requirement of the team," Jwala said.
"As his coach, I can only say if he is dominating some big international bowlers in the IPL, he is going to encounter the same bowlers in international games. It shows that he is ready to play, but when he would, we must leave it to the selectors and the team's think tank," he said.
© Copyright 2023 PTI. All rights reserved. Republication or redistribution of PTI content, including by framing or similar means, is expressly prohibited without the prior written consent.