Matches in the 11th edition of Indian Premier League will be played at nine venues, over 51 days.
The final of IPL 2018 will be at Wankhede stadium, on May 27.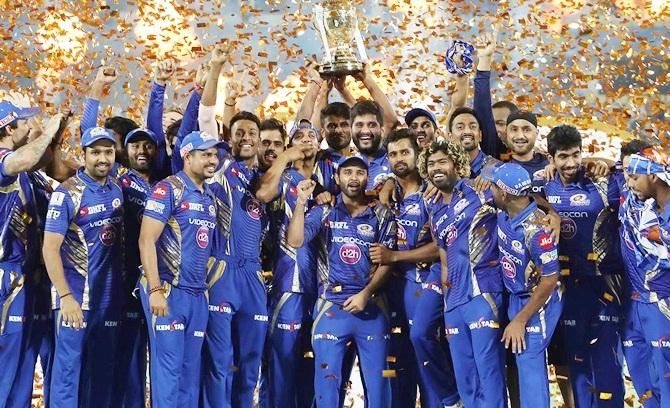 IMAGE: Mumbai Indians' players celebrate with the trophy after beating Rising Pune Supergiant by one run in the final of IPL 2017 in Hyderabad on May 21. Photograph: BCCI
Chennai Super Kings will take on defending champions Mumbai Indians in the opening match of Indian Premier League 2018.
The cash-rich Twenty20 extravaganza has retained its earlier match timings, weeks after considering the broadcaster's request for a change in schedule.
The first match on April 7 will be played at the Wankhede stadium in Mumbai. It will see the return of two-time winners Chennai Super Kings from a two-year ban following its alleged involvement in corruption in the league.
The venues for Eliminator and Qualifier 2 have not been decided, while Qualifier 1 and the final will be played at the Wankhede stadium on May 22 and 27 respectively.
As per the fixtures, posted on Wednesday on the IPL's website, there will be 48 evening matches and 12 afternoon starts.
The double headers' timings remain unchanged, while the opening ceremony will be in Mumbai on April 6.
The IPL governing council had last month accepted broadcaster Star Sports' request to alter the timings of matches. The broadcaster had recommended that the second match of the day start at 7 pm instead of the earlier 8 pm, while pushing the 4 pm match to a 5.30 pm start.
However, a section of franchises, which are 50 percent stakeholders in the IPL revenue model, expressed their grievances with the change in timings as it was done without consulting them.
An early start would have meant an early conclusion to the matches in the night, ensuring prime time coverage. Public transport and players reaching their hotels late into the night were the other reasons for considering changes in the match timings.
Though the BCCI has maintained status quo as far as match timings are concerned, some franchises are still pushing for a 3.30 pm and 7 pm start to the games, along with the broadcaster.
In its 11th year, the tournament's first double headers will be held on April 8, with Delhi Daredevils hosting Kings XI Punjab and Kolkata Knight Riders facing Royal challengers Bangalore at home.
Rajasthan Royals, also returning to the fold after a two-year suspension, will open their campaign Sunrisers Hyderabad in the Telangana capital on April 9.