The last time Sourav Ganguly faced Kolkata Knight Riders (KKR), he was just another player in the Pune Warriors team. He scored 18 and Pune lost.
On May 5 -- when the two teams meet again -- Ganguly will play as the captain of Pune Warriors, which is till now on a winning streak. KKR has lost two of the three games played so far.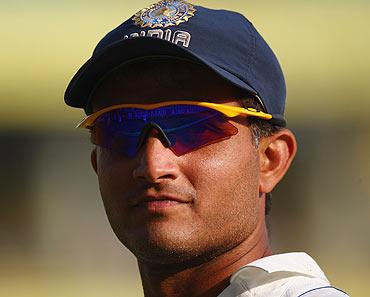 The clash has generated unprecedented interest in the game. Business Standard reports that most of the online tickets have already been sold, 24 days before the match is slated. Tickets are available for Rs 300, Rs 400, Rs 500, Rs 750 and Rs 1,500.
"The online quota of tickets is already sold out. The club house tickets remain, which we are expecting will be sold out within the next couple of days. We are seeing at least a 50 percent upswing in inquires about corporate bookings," said an official in-charge of ticketing.
Incidentally, tickets for all other KKR matches before and after the one with Pune Warriors, including with Rajasthan Royals, Kings Punjab, Deccan Chargers, Mumbai Indians and Chennai Super Kings, are available in abundance.
"Usually, tickets remain available online until bookings are closed. We expect the offline over-the-counter tickets to be sold out within the first couple of days," the official added.
Another KKR official, when quizzed about the reason for the interest, said it had to do with Ganguly's Kolkata connection without a doubt, and the disconnect Shah Rukh Khan has with the city.
"Of course, Kolkata has always been and will always be attached to Ganguly. Also, the perceived rivalry between Shah Rukh Khan and Sourav Ganguly after the latter was not selected for KKR in last year's auctions could explain the interest," a KKR official said.
According to an online poll on Ticketgenie, the online ticket selling partner for the Indian Premier League, KKR and Pune Warriors have a 13 and 10 percent chance of winning the tournament, respectively.
In last year's auctions, while it was expected that Ganguly might or might not be picked for KKR, the shock came when no franchisee picked him at all. Later, Subroto Roy's Sahara Pune took him on board, but not as captain.
When cancer-stricken Yuvraj Singh, who was earlier designated as the captain for Pune Warriors pulled out, Ganguly was made the captain. While the team under Ganguly has won the first two matches in a dominant way, KKR has won just one of the three matches played.
Ask the fans, and there is a disconnect with KKR, compounded by the fact that Shah Rukh Khan is now brand ambassador.
"There is no connect that the city has with KKR, besides the fact they are based out of Kolkata. Pune Warriors is more of our team than KKR. I will support Ganguly," said Debroop Sengupta, an MBA student.