Former Australia all-rounder Andrew Symonds announced his retirement from all forms of cricket on Thursday.
Symonds, who was signed up by Mumbai Indians last season for US $850,000, said he would not be able to take part in this year's Indian Premier League because his wife is due to give birth to his first child.
"Effective immediately, I am retiring from all forms of professional cricket. It is with regret that I will not be able to fulfill my final year of the IPL with the Mumbai Indians.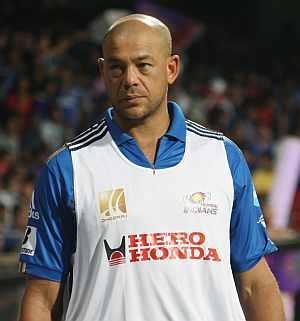 "Mumbai Indians and the IPL have both been very supportive of me, but the impending arrival of my first child is a priority," the 36-year-old was quoted as saying by ESPN Cricinfo.
- Top-10 buys at the IPL V auction
Though Mumbai Indians' preparations for the fifth IPL could be hampered by the Aussie's sudden decision to call it a day, the Mukesh Ambani-owned franchise wished the player the best for his future.
"Andrew Symonds was an integral part of Mumbai Indians in Season 4 as well as our Champions League-winning team. He was a great team player and the youngsters always looked up to him for guidance. We appreciate and respect his decision and wish him very best in all his future endeavors," a Mumbai Indians spokesperson said.
Symonds played 26 Tests, 198 ODIs and 14 T20 internationals for Australia before being sent back from the 2009 ICC World T20 for an alcohol-related incident, after which Cricket Australia did not renew his contract.
He was involved in a bitter racial row with Harbhajan Singh during the Sydney Test in January 2008 which almost threatened to end the team's tour of Australia.
Cricket Australia had to deal with his impulsive ways when he went fishing in Darwin when he should have been attending a team meeting in the lead-up to an ODI series against Bangladesh. He was sent home from the series and not picked for the tour of India in late 2008.
He was rushed back to Australia's squad after the 0-2 series loss to India for the series against New Zealand in November, but was involved in a pub scuffle while celebrating the team's victory in the first Test.He appeared in three more matches before undergoing knee surgery.
A radio interview, in which he targeted New Zealand's Brendon McCullum, was a factor in him being banned for the South Africa tour.
He retired from Test cricket to become a freelance Twenty20 specialist, playing for Queensland, Deccan Chargers and Surrey before joining Mumbai Indians.
Photograph: Hitesh Harisinghani