A day after reports claimed that Sachin Tendulkar helped Andrew Symonds and Harbhajan Singh bury the hatchet of the Sydney Test racial row scandal to become friends, the Indian off-spinner described the Australian all-rounder a "great guy".
Harbhajan also blamed the media for making a mountain out of a mole hill by projecting the two as foes.
"We are playing together for Mumbai. He is a great guy and is enjoying his moment," Harbhajan said about his Mumbai Indians IPL teammate Symonds here.
Three years of seething animosity triggered by the "Monkeygate" scandal of the 2008 Sydney Test has ended thanks to the Indian Premier League, with both the feisty players forming a bond at Mumbai Indians playing environment, The Australian reported on Sunday.
When Harbhajan was asked about the newspaper report, he said, "We have always been friends. Thanks to all of you (media) for making it such a big news."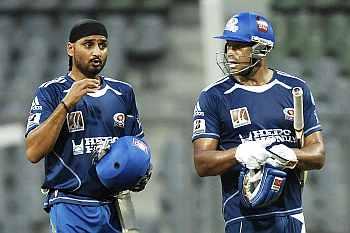 He, however added that "such things (spat between the two) happen when you play the sport at that level".
"Every team wants to win. Few words get exchanged during the games, but I left that matter there and then. From there onwards we have been playing together for Mumbai," Harbhajan said on the sidelines of a function here.
The spinner acknowledged that Tendulkar played a part in ending one of the most talked-about feuds in world cricket.
"It is not just this (Symonds) matter, but he (Tendulkar) has helped me in lot of other matters as well. I am grateful to him," he said.
Harbhajan said that he does not read the newspapers and blamed the media for its tendency to rake up the issue. "I don't really read newspapers," he said.