Mumbai Indians skipper Sachin Tendulkar on Friday credited his side's eight-run win over Chennai Super Kings in a thrilling IPL match in Mumbai to "unbelievable" fielding though he heaped praise on Harbhajan Singh and Rohit Sharma for their bowling and batting performances.
"Rohit batted brilliantly to rally the side and then Harbhajan bowled fantastic but I think fielding was unbelievable and we saved a lot of runs. It was a spectacular show in fielding," Tendulkar said.
Rohit Sharma hit 87 from just 48 balls to take MI to 164 for four after the home side were 13 for two in the fourth over. Harbhajan then scalped this season's second five wicket haul with 5/18 to restrict CSK to 156 for nine.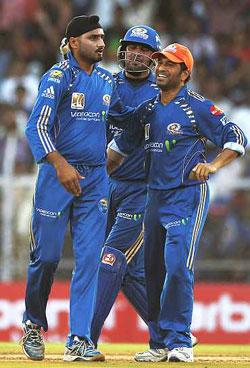 Tendulkar said his side were 10-15 runs short but they knew they could win the game with a good bowling and fielding performance.
"May be we were short by 10-15 runs. But we said 165 is defendable if we field well and bowled tight. Our catching was very good and ground fielding also brilliant," he said.
Chennai captain Mahendra Singh Dhoni said that the difference between the two teams on Friday was the fielding and Mumbai had been better in that department.
"Our batting and fielding were good but fielding made the difference. Mumbai fielded brilliantly, they took two crucial catches (by Kieron Pollard and Rohit)," said Dhoni.
"The asking rate kept on rising towards the home stretch and we lost wickets in a heap. We have not been able to finish matches when we should have done. We have to make amends of this," he said.
The India captain admitted that his side lack bowling resources and are facing the problem when the part-timers go for runs.
"We are facing lack of bowing resources. It has been tough to manage in the bowling department. When the part-timers go for runs we are facing problems," he said.
 "Suresh Raina bowled well in his first spell but was expensive in his second spell," he added.
© Copyright 2021 PTI. All rights reserved. Republication or redistribution of PTI content, including by framing or similar means, is expressly prohibited without the prior written consent.