IPL-4 is 51 matches up. Purnendu Maji and Srinivas Bhogle take a look at the worth of the key players in the ongoing T20 extravaganza.
Virender Sehwag (564) continues to be the most valuable player (MVP) of Indian Premier League-4, but Chris Gayle (555) is hot on his heels. A mere 9 'runs' separate the two.
We mustn't forget that Sehwag has compiled his 'run' tally over 11 matches while Gayle has played just 5 matches. So Gayle looks set to streak ahead of Sehwag, especially because Gayle also bowls a bit and picks up a few wickets (when will Sehwag's shoulder get well enough for him to bowl?).
MVP list as on 9.5.2011 (after 51 matches)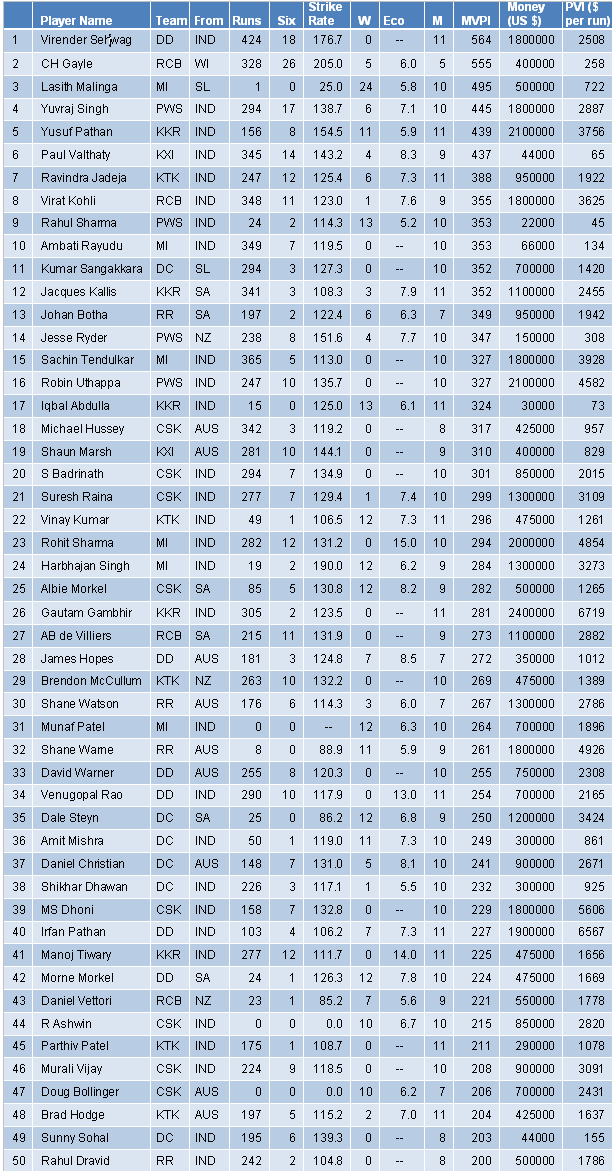 Our table contains several interesting pointers. For example, Gayle (26) has hit the most sixes, followed by Sehwag (18), Yuvraj Singh (17), Paul Valthaty (14), Ravindra Jadeja, Rohit Sharma, Manoj Tiwary (all 12) and Virat Kohli and A B de Villiers (both 11). Kieron Pollard has just 4 sixes so far!
Among bowlers who have taken 10 or more wickets, Rahul Sharma (5.2, 13 wickets) has the best economy rate. Others on this list are Lasith Malinga (5.8, 24 wickets), Shane Warne and Yusuf Pathan (5.9 with 11 wickets), Iqbal Abdulla (6.1, 13 wickets), Harbhajan Singh (6.2, 12 wickets), Doug Bollinger (6.2, 10 wickets) and Munaf Patel (6.3, 12 wickets).
Finally let us look at some expensive players (worth $400,000 or more) who are not proving to be good value for money (have played 5 or more matches, but have a paisa vasool index greater than 6000).

>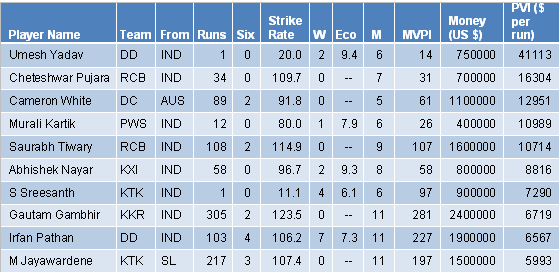 >