'Only the security situation will decide when international cricket returns to Pakistan.'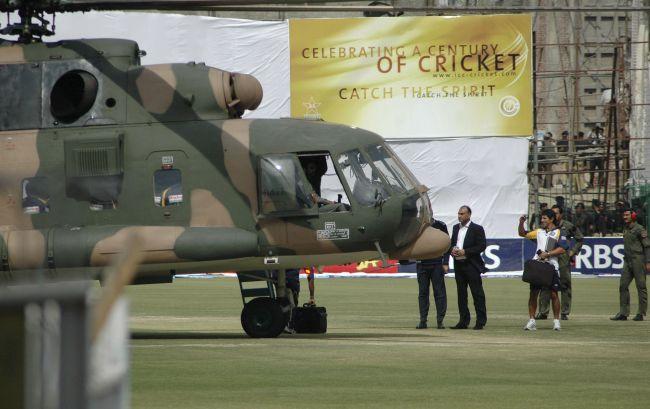 IMAGE: Sri Lanka's cricket team members prepare to board a Pakistani military helicopter at the Gaddafi stadium in Lahore after their team bus was attacked by gunmen in 2008. Photograph: Syed Mujtaba/Reuters
ICC Chief Executive Dave Richardson on Wednesday made it clear that international cricket can return to Pakistan only after the security situation improves in the country.
Richardson was speaking at a press conference held after he presented the ICC Test Championship mace to Pakistan captain Misbah-ul-Haq at the Gaddafi stadium here for bagging the number one position in the ICC rankings.
"I know there is lot of passion for cricket in Pakistan and that is why I always enjoy coming here. But only the security situation will decide when international cricket returns to Pakistan," Richardson said.
He said ICC wanted all its member countries, including Pakistan, to be playing international cricket at home but eventually the security situation in the country will dictate what happens in the future.
Pakistan has not hosted a full Test series at home against any team since March 2009 when militants attacked the Sri Lankan team in Lahore killing six policemen and injuring an umpire and some visiting players.
Since than only lowly ranked teams like Afghanistan, Zimbabwe and Kenya have visited Pakistan for short limited over matches.
Richardson said it was a remarkable achievement on the part of Pakistan to reach the number one Test ranking spot and this was only because of the intense passion for cricket among the people.
"It is a remarkable achievement for Pakistan because they have played all their matches away from home since last six years," he said.
"I am sure international cricket will one day return to Pakistan as the Pakistan cricket board is also making untiring efforts to host matches."