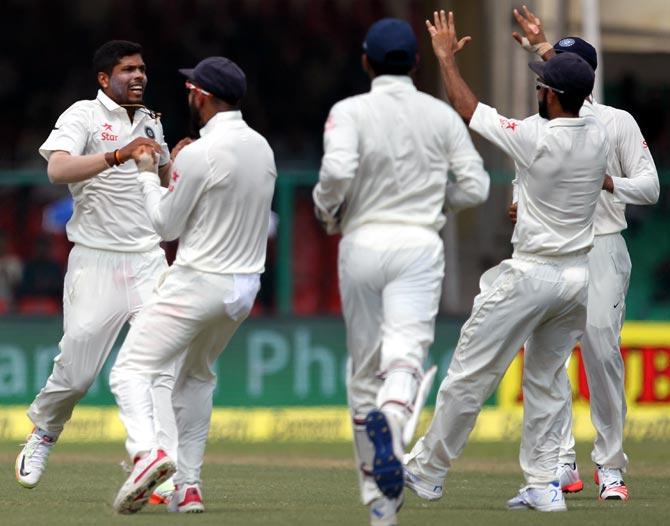 IMAGE: Umesh Yadav, left, celebrates with team mates after getting the wicket of Martin Guptill. Photograph: BCCI.
India's batting coach Sanjay Bangar on Friday said that the several water breaks taken by New Zealand batsmen disturbed the rhythm of his bowlers while insisting that one breakthrough will put the hosts on top in the first cricket Test in Kanpur.
New Zealand captain Kane Williamson (65 batting) and Tom Latham (56 batting), who frustrated India with their unbeaten 117-run stand, took several water breaks apart from the stipulated drinks intervals.
And, Bangar said that the intermittent breaks did disturb the tempo of their spinners.
"Ideally we would have loved to have the number of overs we lost today (Friday). It (the ball) started to turn a bit, bowlers were getting into good rhythm. The break of rain and intermittent breaks, in between, definitely hampered the rhythm of our bowlers.
"That is something we need to be aware of it and if somebody has come out with a ploy like that we have to negotiate that," Bangar said after second day's play.
Asked specifically if he felt the Kiwis deliberately tried to slow down left-arm spinner Jadeja, who likes to rush his overs, Bangar, however, said, "Not to read much into it. There are certain areas wherein every individual looks to get an advantage over the opposition and even we do that at some point of time. Ultimately it's the spirit of the game that needs to be kept intact."
"Umpires are aware of it and they make sure that certain corrective measures will be taken in the days to come," he added.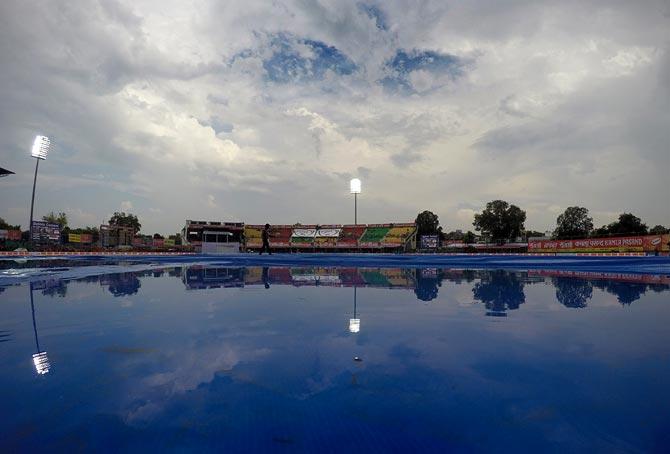 IMAGE: The pitch and the outfield under covers after rain stops play on Day 2. Photograph: BCCI.
Bangar said it was a difficult pitch to score and one New Zealand wicket can turn the tide in India's favour.
New Zealand came up with a resolute performance to be 152/1 before rain washed out the final session on the second day. They are still trailing by 166 runs after India were bowled out for 318 in morning session in their first innings.
"For new batsmen, it will be a struggle. In second session we bowled well. Spinners and pacers kept the batsmen under pressure. It's a matter of wicket.
"We have to be patient. We will have to wait for that one breakthrough. There were a few close calls in second session. It's a matter of putting pressure back on them," he said.
"Every touring team comes out with a plan. They applied themselves well. If you go back into the game, we were in a similar position. We were 150 odd for one at one point of time, so when the ball starts to get older and batsman are a bit tired, you get a breakthrough. Then it can be a totally different ball game. Williamson batted the same way, Vijay and Pujara batted for us."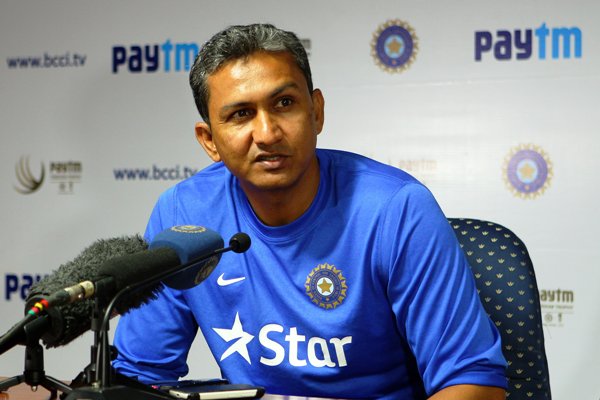 IMAGE: Sanjay Bangar addresses the media. Photograph: BCCI.
Asked if India missed a third spinner, Bangar said it's too early to comment on that.
"We have just bowled 45 overs so far and in those overs bowlers have made a good effort. The game is only two days old, did not have even six sessions of play. I don't think that kind of thought crossed our mind," he said.
The Indian batting coach also said it would have been ideal if their batsmen, who got starts, had prolonged their stay at the crease.
"Five or six batsmen got starts and a couple of our batsmen got fifties as well. It's (batting for long) very important on such wicket where run scoring is a bit of grind, wherein someone who gets in make sure that he makes a contribution which is substantial. It's unfortunate that none of the batsmen who got starts could convert it into a big knock for the team," he rued.
Talking about different strategies adopted by the batsmen of the two teams to negotiate spin, Bangar said it's up to individuals to decide.
"Our batsmen use their feet confidently in negotiating spin, but the visiting batsmen play sweep shots more. We have also evaluated that we have used feet for about 30-35 time and they stepped out just twice. It's question of individual's strength," he said.