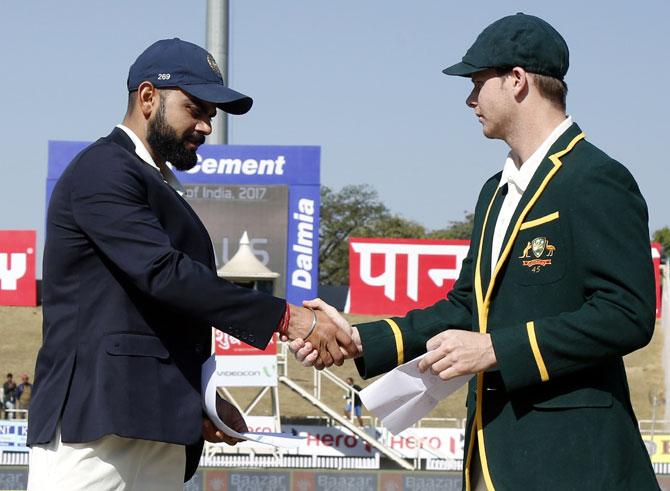 IMAGE: India captain Virat Kohli, left, shakes hands with Australia skipper Steve Smith at the toss. Photograph: BCCI
800 Number of Tests Australia have played. They became second team after England (983) to reach this landmark. Interestingly, Australia had also played their 700th Test against India – at Nagpur in 2008, which they lost by 172 runs. India, by the way, are the only country to beat Australia in any of their milestone Tests.
26 Number of Tests Virat Kohli has captained India without ever playing the same XI in two consecutive matches.
24 All of Matt Renshaw's first 24 runs came in the boundaries (six fours). The highest individual score comprising of only boundaries is 32 by Sanath Jayasuriya and Alex Tudor.
1 Number of successful reviews for India in the series while fielding. Before getting a decision in their favour against Shaun Marsh, India had lost all 8 reviews while fielding in this series.
53 Number of Tests taken by Steve Smith to reach 5,000 runs. Only Don Bradman (36) and Sunil Gavaskar (52) have taken fewer matches to reach this mark.
60.73 Steve Smith's career batting average (at close of play on day one). Among 89 players who have aggregated 5000 or more Test runs, only one – Don Bradman – has the higher batting average (99.94).
6 Number of hundreds Steve Smith has hit in last seven Tests against India. He scored a hundred in each of the four Tests in series in Australia in 2014-15, followed it up with another hundred at Pune. Smith missed out at Bangalore, before scoring yet another hundred in this Test.
5 Number of players who have scored more hundreds than fifties as captain (min.10 hundreds). Four of them have been Aussies! They are: Don Bradman (14 hundreds and 7 fifties in 24 Tests), Michael Clarke (14 and 7 in 47), Steve Waugh (15 and 10 in 57) and Steve Smith (11 and 9 in 23). Sri Lanka's Mahela Jayawardene is the only non-Australian to do so, with 14 hundreds and 10 fifties in 38 Tests as captain.