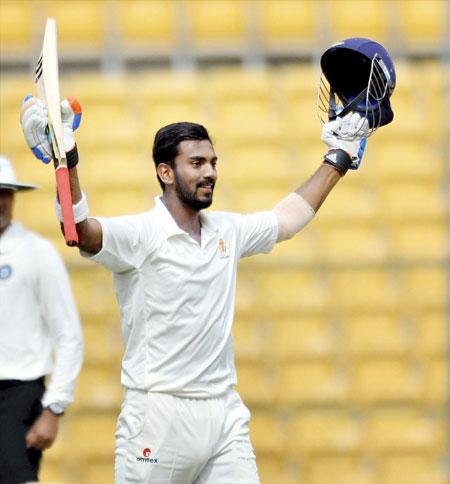 India team continued to be dogged by injuries as young all-rounder Hardik Pandya was Sunday released from the Test squad due to a blow on the shoulder, sustained during a training session.
Lokesh Rahul and wicket-keeper Wriddhiman Saha were also forced to miss the third Test due to injuries but the BCCI is expecting the young opener to regain fitness before the fourth Test, scheduled to begin from December 8 in Mumbai.
"BCCI medical team confirms that India all-rounder Hardik Pandya sustained a blow on his right shoulder during a training session in Mohali. He has been released from the Indian Test team and will consult a specialist to decide the future course of action," BCCI Secretary Ajay Shirke said in a release.
"Batsman KL Rahul is also released from the squad to recover from his left forearm injury. He is expected to regain his fitness for the fourth Test match of the Paytm Test series," the release added further.
Rahul had earlier missed out two Tests and five ODIs against New Zealand after suffering a hamstring injury during the Kanpur Test match.
There is a long list of Indian players, who have missed matches since the start of the 13-Test home season. Paceman Ishant Sharma was out of the New Zealand series due to Chikungunya, Rahul with hamstring injury, Shikhar Dhawan with thumb injury and paceman Bhuvneshar Kumar with back strain.
Image: K L Rahul of India.
Photograph: PTI