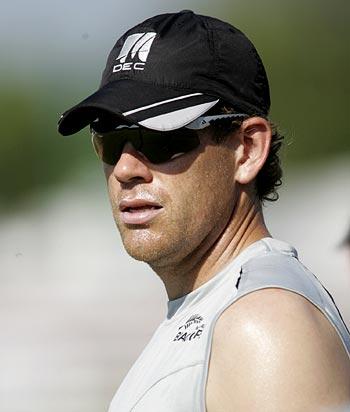 Ben Wheeler will replace Jacob Oram in the Central Stags squad for the 2010 Airtel Champions League Twenty20, in South Africa from September 10-26.
The tournament's Technical Committee on Friday allowed the change after scans confirmed the injury-plagued New Zealand all-rounder will require surgery on his knee.
Central Stags are already been hit hard after losing Ross Taylor to Royal Challengers Bangalore though they got US$ 2,00,000 in exchange.
Oram returned home from Sri Lanka on Wednesday after aggravating a knee injury -- which he first suffered in the ODI series against Australia in March -- during New Zealand's training ahead of the tri-series match against India.
The injury on patella tendon, which connects the kneecap to the shin bone, had caused him problems before the Twenty20 World Cup in the Caribbean in April. He had injured it again during New Zealand's pre-tour camp in Darwin, Australia.
Oram, whose condition would be assessed by New Zealand medical staff for four to six weeks, is hoping to return for the home series against Pakistan in December.
"While I'm gutted to miss the Champions League with the Stags I'm thankful the medical specialist has found the problem now so we can get the right plans in place to get it right," Oram, 32, said in a statement.
"I've been told that I should be realistically targeting the Pakistan homes series at the end of the year, but, who knows, if surgery and rehab goes well I may be available for selection before the Indian tour in November.
"It's frustrating more than anything but I've been through this before. I'm confident I can return injury free following a course of rehabilitation," Oram said.
Oram has been beset with injury during an international career dating back to 2002. He retired from Test cricket last October in a bid to extend his career in the limited overs formats.