Only Alistair Cook and Joe Root from the present English side played the 2012 series which England beat India.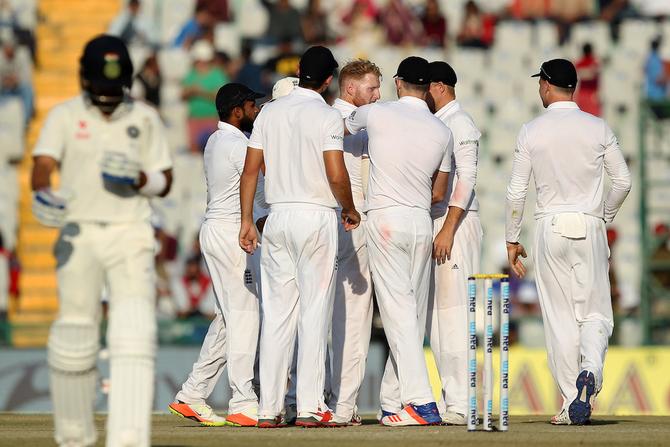 England were the last team to beat India at home, back in 2012, and Alastair Cook feels the difference is that India's 'Class of 2012' comprised "ageing players" while England's 'Batch of 2016' is full of rookies with little or no experience of playing in the sub-continent.
Save Cook, Joe Root, none of the England batsmen who played in the 2012 series were a part of the first three Tests.
England had posted a 2-1 win in 2012 over India, a side that had Sachin Tendulkar, Virender Sehwag, Gautam Gambhir, Harbhajan Singh and Mahendra Singh Dhoni.
Asked to compare the two Indian sides, Cook made an interesting observation.
"The India we played in 2012 was different," the English skipper said. "Probably an ageing team compared to now. It's a different set-up, more youngsters, who also have got four years of experience in these conditions. Our team in 2012 was a lot more experienced side (Cook, Ian Bell, Kevin Pietersen, Matt Prior, Jimmy Anderson, Graeme Swann, Monty Panesar) and played a lot more in the sub-continent before that."
"This side, only two in the top order have played more than 1-2 games in the sub-continent before we played in Bangladesh. That's probably the difference," Cook added.
He made no bones about the fact that the team has performed below par.
"We haven't delivered in the last two games. There is nothing worse than that actually, when you know you can play better and you are not quite doing that," he said.
The skipper admitted that he had "misread" the pitch completely.
"I think all of us misread this pitch. If we would have known, we would have obviously gone in with four seamers and two spinners. Because the seamers are always in the game, with a bit of reverse swing. We can control the scoring rate. I looked at that wicket along with a number of people before the game that we thought is more a lot dry."
"We all thought it's going to spin more. So in hindsight we would have played four and two but I am quite happy with my decision because I thought it's the right one at that time," the captain explained.
"We will have a look in Mumbai as to how it's turning and bouncing."
IMAGE: The England cricket team celebrates a wicket. Photograph: BCCI