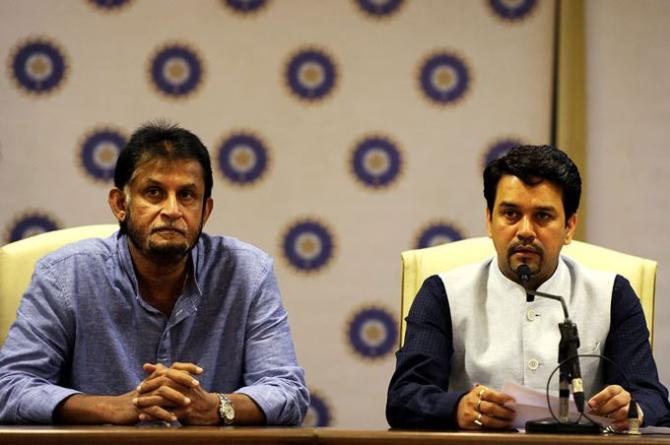 IMAGE: Chairman of selectors Sandeep Patil (left) and BCCI secretary Anurag Thakur. Photograph: BCCI
The secretary of the Board of Control for Cricket in India, Anurag Thakur said, on Saurday, that the Indian cricket board is ready to resume discussions about cricketing ties with Pakistan only if they agree to play the proposed bilateral series in India.
- Indo-Pak series: PCB claims invite from India, BCCI gives no assurance
"We can only start talking if they agree to play in India," Thakur said.
"It was not possible to play in Pakistan and a neutral venue as the Indian government would not give the permission," he was quoted as saying by ESPNcricinfo.
The Pakistan Cricket Board chairman Shaharyar Khan had earlier in the day claimed that BCCI has invited its team to play its 'home' series in India next month.
Confirming the development, Thakur said BCCI had spoken to PCB about the series but they will be able to resume the discussion with the government only after Pakistan agree to India hosting the series.
"To keep the India-Pakistan series alive the BCCI has made an effort and spoken to the PCB [to see] if they are keen to play in India," he said.
"Then we can take matters forward, and we can talk and discuss with the [Indian] government and further work out the details of the series."
Earlier, BCCI President Manohar said that they have not even approached the government yet for clearance and any statement to this effect was not correct.
Interestingly, the chairman of PCB's executive committee Najam Sethi had told the media on Friday that he would advise the board not to accept any offer from BCCI to play the series in India.