'We three are very good friends off the field and that makes it much easier.'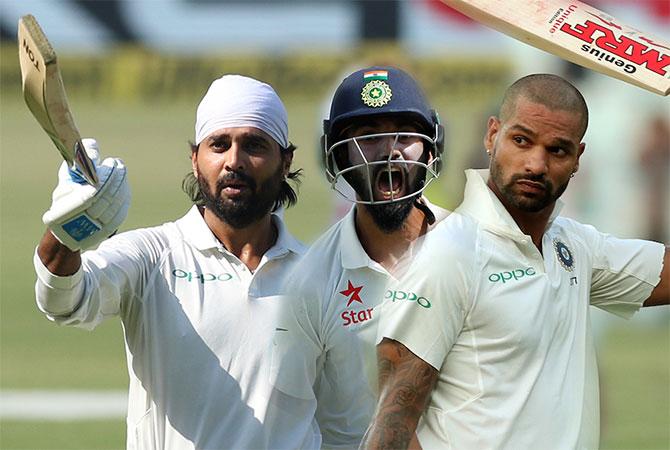 IMAGE: India's openers Murali Vijay, KL Rahul and Shikhar Dhawan. Photograph: BCCI
It is tough when one among three in-form players has to sit out but senior India opener Murali Vijay is relieved that his off-the field friendship with KL Rahul and Shikhar Dhawan has helped him deal with sensitive selection matters with ease.

Dhawan and Rahul scored 94 and 79 in the second innings of the first Test on a green top where Vijay -- India's most technically equipped opener was dropped. With Dhawan taking a break in the second Test, it was Vijay, who made a successful comeback in international cricket with a patient hundred.

With one among Dhawan and Rahul set to be dropped from the playing eleven, Vijay was asked about how does their troika deal with the situation.
"We three are very good friends off the field and that makes it much easier. Definitely, (when one is dropped) it unsettles the opener, who is playing regularly. Obviously, we three share a good rapport outside the field and this will help us big time during the (South Africa) series coming ahead and future," Vijay said in New Delhi on Friday, on eve of the third and final Test against Sri Lanka.

The Tamil Nadu opener revealed that sharing feelings about selection openly with each other helps them to move on rather than keeping things brewing inside.

When asked how they deal with one of them being dropped: "Make it easier, lighter and more fun. Talking about it openly and having a good chat over it rather than keeping things within yourself and making the other person feel it."

The 33-year-old said whenever he and Dhawan have faced such a situation, they thrashed it out and moved on.

"It's better off going in the open. Like whatever I feel or Shikhar feels, we put it out in the open, so that it comes off and we move forward," he said.

"Basically, we are fun-loving people and we do things together. We have good times outside the field, which is really helping us as a team."

However, Vijay sidestepped the question on what could be India's possible team for the final Test.

"I don't know. Whatever the team management does, we are well-equipped and all looking to contribute. I don't know how they (team management) are going to play around with the team. It's absolutely their choice and we are ready to do it for the team," said Vijay, who has 3536 runs in 52 Tests with 10 hundreds.

As the discussions veered towards playing in challenging conditions, Vijay said that communication and sharing of knowledge becomes important.

"We have been playing Test cricket abroad for a while now and the same members have stuck together. It's going to be very important for us to communicate and share knowledge with each other," he said.

"These are things I am looking forward to in this tour as these are the things that will add value rather than going and having hit in the centre.

"We should clear our head before we are going to do. These are aspects we are looking forward to and there are definite plans for team building activity and it will be good fun."

Vijay in his mind has already started preparing for the South Africa tour and the old school practice of knocking against tennis ball to cope with bounce is an example.

"I tried to do something different in practice so that it challenges me. I try to be better each and every day possible. That's the whole concept of doing that."

With Tamil Nadu crashing out of the Ranji Trophy in the group stages, Vijay plans to focus on fitness and skill development in the next three weeks before leaving for South Africa.

"Definitely occupy myself with fitness and skill level where I want to go on and improve a little bit. Have a good training schedule and stick onto it and prepare for the big series coming ahead."

Vijay is happy with pitch at the Feroz Shah Kotla in New Delhi and hopes that it would be a good experience to play on a track that had grass covering.

"It has grass obviously and that's the pattern for the whole series. Hopefully, the wicket plays good and we get a good experience before the South Africa tour."