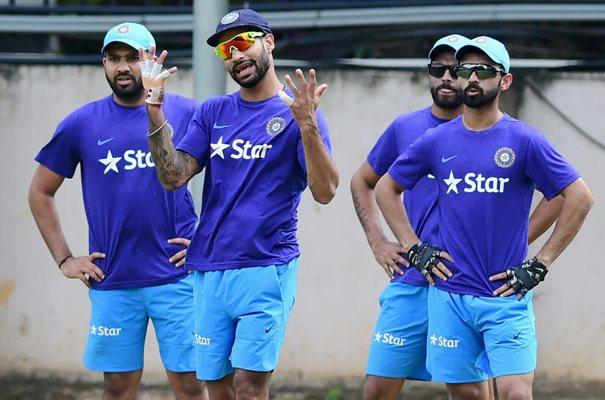 IMAGE: Shikhar Dhawan, Rohit Sharma, Ajinkiya Rahane and Ravindra Jadeja during the preparatory camp ahead of West Indies tour. Photograph: PTI.
Indian vice-captain Ajinkya Rahane feels that the batsmen will have to show a lot of patience if they are to find success in the upcoming four-Test series against the West Indies.
The first Test begins in Antigua on July 21.
"We have discussed about all these factors as a batting unit," said Rahane on Monday. "We have talked about how to bat on the slower tracks. Patience will be the key here and it is not going to be easy to score runs for the batsmen. But if you focus and concentrate well, once you get settled it will be very easy to bat on. Even the bowlers have to bowl very disciplined line and lengths here and be patient here."
In his pre-departure press conference, skipper Virat Kohli had admitted the team needed to learn from the last Test series against South Africa. And perhaps they have started in earnest, with training underway three days before the first Test, under the watchful eyes of Anil Kumble.
"I think as a batting unit we have been doing really well. As much as we are learnt from the South Africa series, it is all about focussing on this series now. Patience will be the key as a batting unit.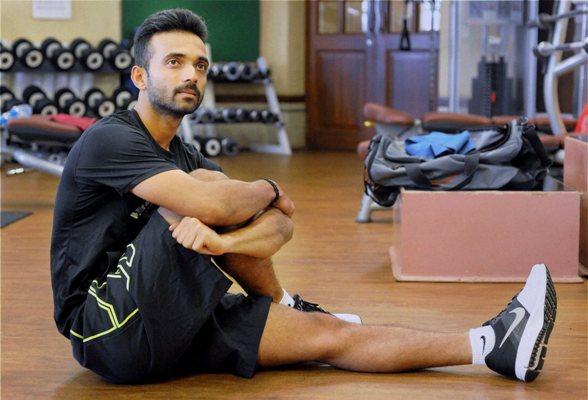 IMAGE: Ajinkya Rahane during a training session. Photograph: PTI.
"Once you get set it is important to make each and every session count, because we will have to give time for our bowlers. It is not easy to take 20 wickets on these slower tracks. As a batting unit we will have to take responsibility and I think one or two batsmen will have to get set and score big here," said the middle-order batsman.
"You cut out certain shots because technically. But I don't think we will have to change anything really. We will have to cut out some shots initially, and after that when you get used to the conditions, you will play your shots. But initially it is important to give time."
When he speaks about patience, Rahane meant that instead of trying to get a century off 150 balls, they might have to wait for 250 balls to score one.
"If you are used to getting 100 off 150 balls, maybe here you will have to get 100 off 250 balls. So, as a batsman it is important to play atleast 200-plus balls here," he added. The young visiting Indian team is under no illusion about the upcoming series.
"It is important to give respect to each and every opponent. It is important to give respect to them and play according to the merit as a team.
"You cannot take anyone lightly and as long as we play to our strengths and potential, it will help us in this Test series," Rahane said.