'When it comes to strategy, we will have a chat about it later on. But I think if we play good cricket, we can definitely beat them'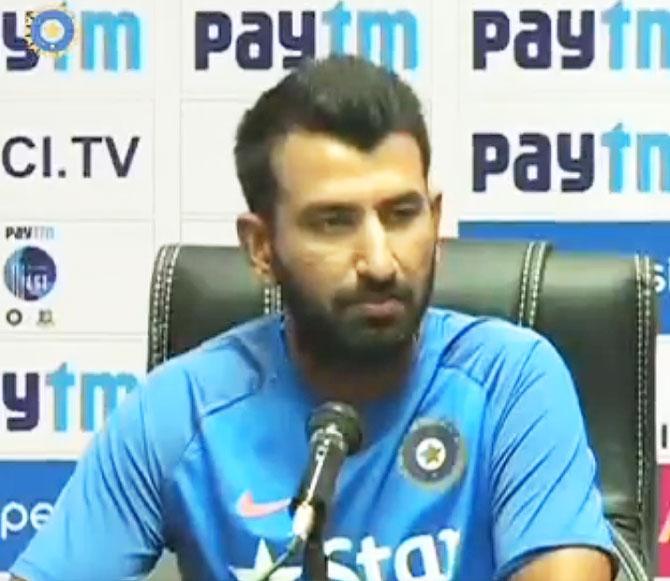 IMAGE: Cheteshwar Pujara speaks at a press conference in Hyderabad on Monday. Photograph: BCCI/Twitter
India's Cheteshwar Pujara asserted that the hosts would look to continue their winning run in the upcoming one-off Test against Bangladesh but cautioned his team against complacency.
The match is scheduled for February 9, and Pujara felt the visitors cannot be taken lightly, considering they shocked England in a Test match last year.
"They have been playing well in the sub-continent. So, probably, that is one team that have done well against England. We can't take them lightly. But, at the same time, we played very good cricket in 2016. So, probably, we would stick to the same thing. We are number one team in the world at the moment. We would like to maintain that, the way we played our cricket in 2016, we would like to repeat the same thing in 2017," Pujara told reporters in Hyderabad on Monday.
"When it comes to strategy, we will have a chat about it later on. But I think if we play good cricket, we can definitely beat them," Pujara said.
The playing conditions would not be much of an issue, as they are almost similar in the sub-continent, the 29-year-old said.
"I think it will be a fair contest. Because, when we tour Bangladesh, we have a similar experience. When we tour Bangladesh, we get similar conditions. I don't think for them conditions will matter a lot. Whoever plays good cricket, I think they will have an opportunity to win this game.
"Probably, we will have the upper hand because the way we played last year in 2016, fast bowlers bowled well, lower order continues to hit and batsmen have been batting well. One thing I believe is that if we play as a team and we play to our potential, we will have the upper hand in this game," he said.
Replying to a query, he said hectic scheduling is not an issue as the players are young and fit. "I think it is always good to play cricket. So, whether it is hectic schedule, I always believe that cricketers, all of us are young and we always enjoy playing cricket," Pujara said.
Asked about Bangladesh's Mehadi Hassan, Pujara said: "I have seen him bowled little bit against England. Looks like a good bowler but, when I play, I will be able to know much about him. He bowled well against England and that was a different wicket altogether. There was a lot of turn on that particular wicket. Both the Test matches, he bowled well. So, I can't comment much on his bowling just looking at it from television. Once I face him I will be able to comment much," he said.
India have had an impressive 2016 season, having whitewashed New Zealand in the Test series before registering a 4-0 win in the five-match series against England.