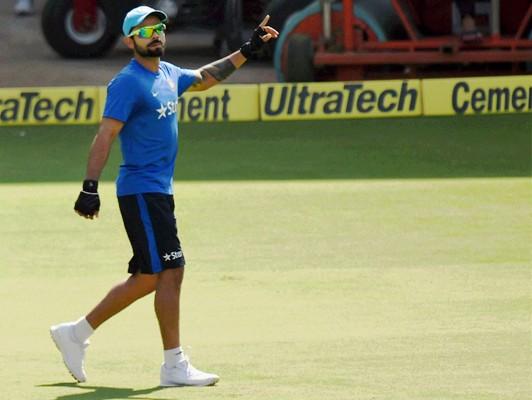 IMAGE: India's Test captain Virat Kohli during a practice session. Photograph: PTI.
Former West Indies pacer Ian Bishop has lamented the difference in quality between the two competing teams in the current four-Test series, stating that Indian players' experience puts them miles ahead of the Caribbean outfit.
He was also impressed with Virat Kohli's aggressive captaincy in the first Test that India won by an innings and 92 runs within four days.
"I like what I see from Virat Kohli. His captaincy is a reflection of his aggressive personality," said Bishop on the sidelines of the first Test.
"I prefer to see that in a captain than someone who is conservative or who sits back all the time. In time Virat will learn to give his bowlers a longer spell, or take them out
quickly. He is growing in this job and I like what I have seen so far in his inventiveness and his use of the bowlers."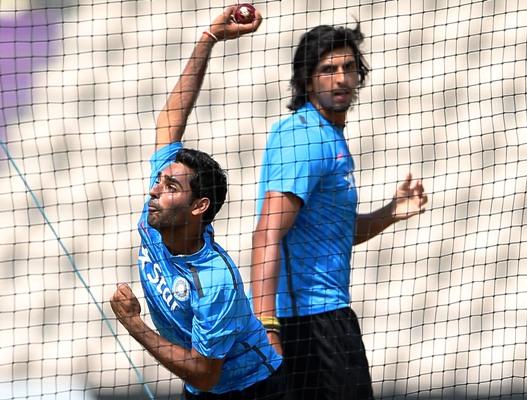 IMAGE: Bhuvneshwar Kumar and Ishant Sharma during an India nets session. Photograph: Getty Images.
Talking about the quality of the India side, he said, "They are a good team and ranked no.2 in Tests for a reason. They have been doing some good things for a while now and it includes building an all-round bowling attack.
"Ishant Sharma, Umesh Yadav and Mohammed Shami are quality bowlers, and then there is R Ashwin who has been bowling well for a couple years now. He is well supported by Amit Mishra and Ravindra Jadeja.
"I am happy to see Virat finally get a double hundred, and even considering that the opposition is an easy West Indies team, they are getting into good habits. "India are aggressive under Virat and his captaincy is very aggressive, and they are doing what they need to do against the opposition they are playing against," the former fast bowler said.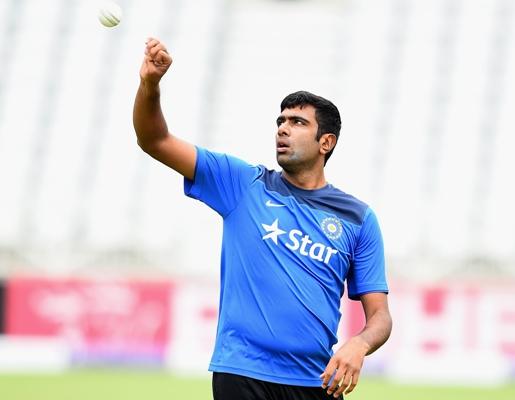 IMAGE: Ravichandran Ashwin of India prepares to bowl during net practice. Photograph: Laurence Griffiths/Getty Images.
Ashwin picked up the man of the match award for his third century against the West Indies, batting at no.6, and then picked up 7-83 in the second innings to cap an all-round performance. The experiment is now set to continue as the series advances further.
"Every team in the world is looking for that guy who can bowl yet bat at that position. You think of Ben Stokes for England. Australia had a couple of guys for many years, and they have Mitchell Marsh who is doing that job for them now.
"The West Indies are looking for someone to bat at six and give them the sort of penetration with the ball as well. But if you look at Ashwin's record against West Indies
compared to his record against other teams, well, there is a disparity.
"So we have to take that into context. It is how he will go against the other higher ranked teams in the world is something to see. This has been a good move but now it has to kick on," said Bishop.