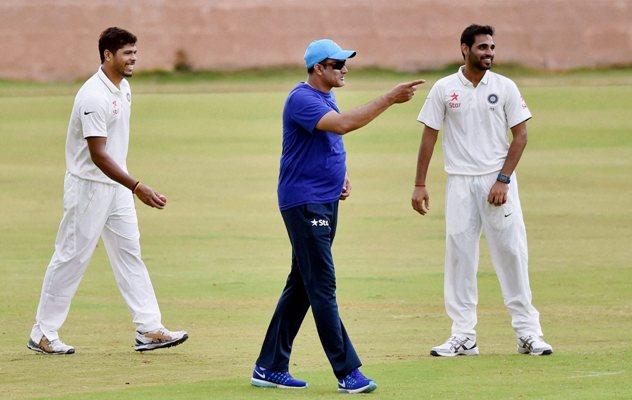 IMAGE: Head Coach Anil Kumble, Bhuvneshwar Kumar and Umesh Yadav during practice. Photograph: PTI.
Anil Kumble has said that his team is all geared up for the 15 Tests in the upcoming season.
"This team has really done well. It is a young team. Some of them are there in the Caribbean for the first time. So it would be a great experience. There are 4-5 seniors players as well who have played here.
"Most of them have played one-day cricket but not Test cricket. Really looking forward to the long season of Test cricket," said Kumble.
The last time India had won an away Test series was in the West Indies and Kumble said it was a positive thing.
"That is something positive for us. First Test match is important. Look forward to starting on a good note," he said. India will seek to record a third consecutive Test series triumph on the Caribbean soil.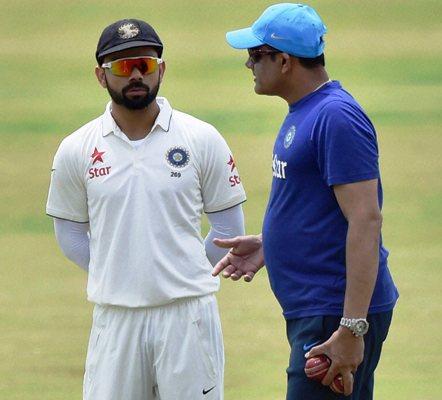 IMAGE: Captain Virat Kohli with coach Anil Kumble during practice. Photograph: PTI.
In his first assignment as India coach, the 45-year-old legendary spinner said he shared a good rapport with skipper Virat Kohli and the other team members and he's looking forward to a long Test season ahead.
"I have been a part of the Royal Challengers Bangalore (in IPL). We played together for three years and then also I have known him. He has matured a lot. He is good on the field and really aggressive, so that is something that he brings to the table," said Kumble before the start of the first Test.
"And his batting, we all know how good a player he is. The team has been blending really well and I felt really welcomed and that's a good thing," he added.
India on Thursday began their four-Test campaign against the West Indies in Antigua under Kumble's guidance.