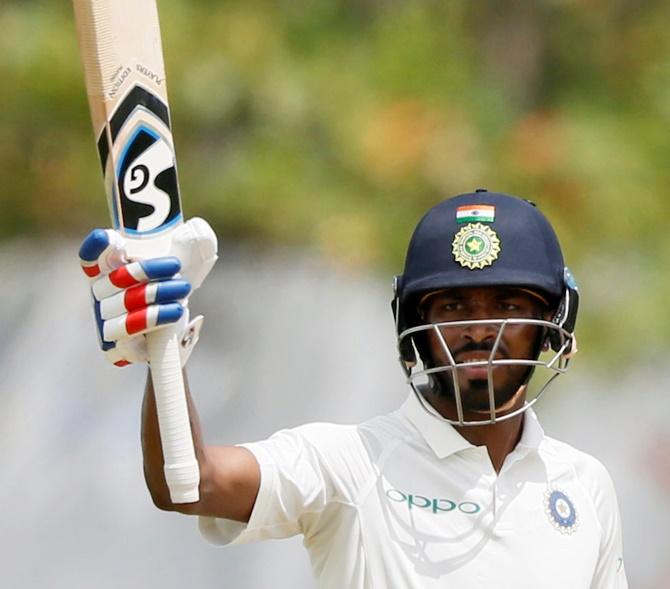 Former India captain Sunil Gavaskar, on Monday, rubbished comparisons between Kapil Dev and Hardik Pandya, saying the legendary all-rounder is a once-in-a century cricketer and cannot be compared to anyone.
Batting great Gavaskar was not at all amused when asked about the tendency among some experts to compare the two.
"Kapil Dev should not be compared with anyone. He is not just a once-in-generation player but a once-in-a century cricketer just like Sir Don Bradman and Sachin Tendulkar. We should not compare him with anyone," a visibly agitated Gavaskar told Aaj Tak.
Gavaskar is also unhappy with opener Shikhar Dhawan's approach in the longer format.
The Delhi player scored 26 and 13 in the first Test against England at Birmingham.
"Shikhar simply does not want to change his game," the 69-year-old said.
"He believes in playing in the same manner which has brought him success till now. You can still get away with such shots in one-day cricket because there aren't many slips and the push or the edge goes for a boundary through the slip cordon."
"But in Tests, such shots will only result in a fall of wicket. Till a player makes a mental adjustment, he will continue to struggle against the red ball in overseas conditions."
Since India are trailing in the five-match series, Gavaskar said they should play an extra bastman in the second match at Lord's.
"I will play one more batsman at Lord's in the form of (Cheteshwar) Pujara. He has the technique and patience required for a Test match. Whose place he'll take will depend on the pitch. If the wicket isn't that green then I will pick him in place of Umesh Yadav and retain Hardik Pandya."
Chasing 194 for a win, India lost the Edgbaston Test by 31 runs after getting all out for 162 on the fourth day. He believed India can stage a comeback in London.
"For India to win the Lord's Test, they need to win the toss and elect to bat. Look what had happened in the third Test at Johannesburg last year when South Africa, batting last against India, collapsed before reaching 200."
"Most of the teams are struggling to chase even a total anywhere near 200 in the final innings. England too might have struggled if they were chasing in place of India in the first Test at Edgbaston."