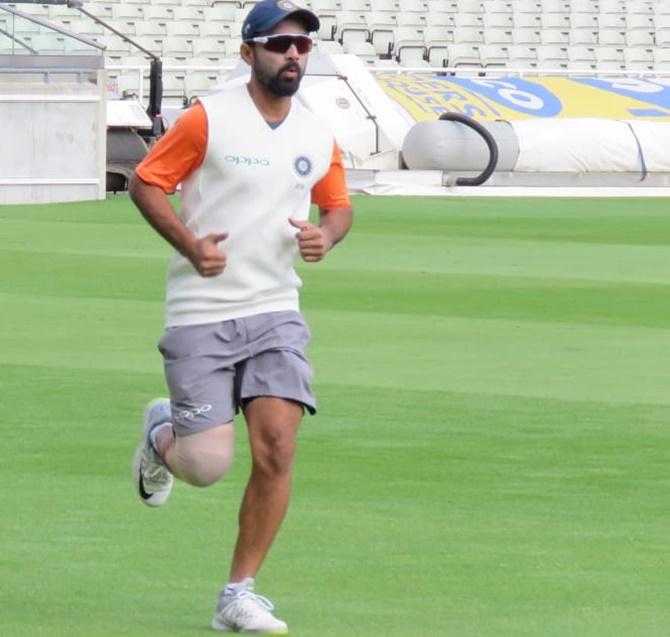 India's attack will have to show patience to take 20 wickets and in the fickle English weather, it could be a virtue for the batsmen as well, vice-captain Ajinkya Rahane said, on Monday.
The five-Test series starts with the first match in Birmingham on Wednesday.
"There is always help for bowlers in England, but that doesn't mean it is easier for the bowlers. They need to be patient and bowl in the good areas. They have to back their own skills instead of trying to take wickets from both ends" Rahane said.
During a media interaction two days prior to the series opener, the batsman added, "If one bowler can play the support role well then it will lead to wickets. To bowl patiently and on spot is crucial to success.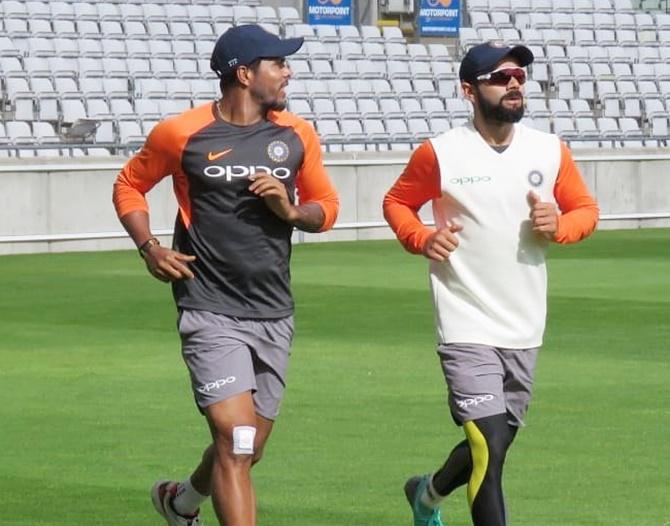 "It is a great opportunity for the bowlers to prove that we can take 20 wickets in a Test match consistently, like we had done in South Africa. Nobody expected us to take 20 wickets in all three Test matches.
"At the same time they should not put extra pressure on themselves and they should just look to enjoy the moment. They need to back themselves and believe that our bowling unit is the best in the world."
As far as his team's bowling attack was concerned, Rahane was brimming with optimism, despite the absence of strike bowler Bhuvneshwar Kumar.
"Our pace bowlers are very experienced. Mohammed Shami and Umesh were here in 2014 as well. They've been doing so well for us, not only in India but outside as well. In South Africa, we got all 60 wickets (during the Tests) and our fast bowlers bowled really well.
"It is a challenge to bowl in England but I am really confident about them - not only Umesh and Shami but also Ishant, who came here and played some county games."
"We have Jasprit Bumrah as well. We have an attack that can disrupt opponents. But yes, it will be a challenge for them to bowl patiently and bowl in the right areas for a long period of time," he added.
India had an intense practice session at Edgbaston after their extra practice session yesterday was washed out owing to heavy rains. Rahane said that they have had ample practice and the rest will come down to mindset.
"In England, patience is the key. It depends on the weather -- if it's sunny it's good to bat, but if it gets cloudy then definitely it's good for the bowlers. As a batting unit, I feel that challenging yourself and backing your own game rather than copying someone else is important."
"If you're set, try to play a big innings. If the weather changes, it's important for the batsman to hold back, respect the bowler and respect the conditions. If you're set here, you should really make it count," he said.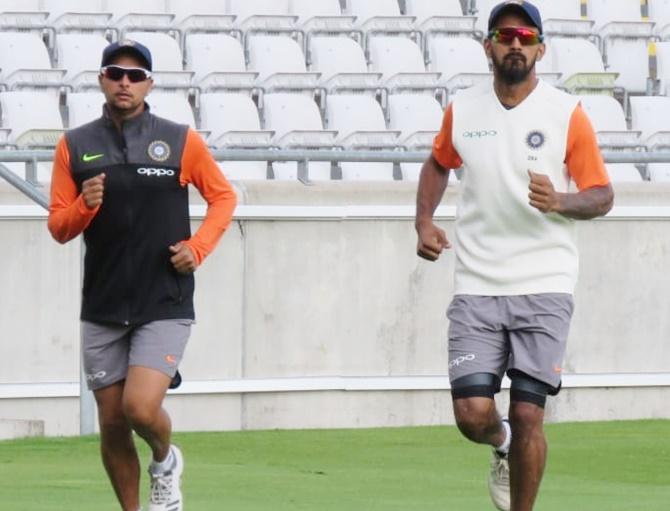 With his team aiming to win their first series in England since 2007, Rahane stressed on the need to have better communication.
"You have to communicate well. In this weather, in these conditions, communication will be very crucial. If someone is really set, batting on 70 or 80, they will have to hold back if the weather changes.
"They will have to respect the conditions and bowlers. From both teams, bowlers are going to bowl well. As a batsman you should respect that. Acceptance will be the key."
The Indian vice-captain had enjoyed the tour of England in 2014, when he had scored a match-winning hundred on a green top at Lord's and finished with 299 runs in five Tests with two other half-centuries.
"We were here in 2014 and we know what it takes to play good cricket here. For us, we want to play good cricket rather than think about the result. If you think about the result you put pressure on yourself.
"This time we just want to express ourselves. Guys are in good shape. Personally I enjoy those challenges of playing abroad. You know here in England the ball does a bit, in Australia there's bounce, and again in New Zealand the ball does a bit.
"My mind is in the present, one match at a time. I'm really looking forward to this series," he said.
India have a few selection calls to make with Kuldeep Yadav making a strong case during the limited-overs' leg for inclusion in this Test.
"We are not worried at all as both are really quality batsmen. It just takes one good innings to get into your rhythm. We all back them. Ultimately the coach and the captain will take the decision.
"As far as I'm concerned they both are really quality batsmen and are batting really well in the nets. It just takes one innings," Rahane said.
"I'm not sure about the combination," he said, talking about Kuldeep.
"He is definitely an x-factor in our team. He bowled really well in the ODIs and T20Is. We will have to see how the wickets will be like tomorrow and day after.
"We don't have to forget R Ashwin and Ravindra Jadeja. They've been doing really well for us. Ashwin especially with his batting and bowling, he's been doing really well," he added.
Last but not the least, there has been a lot of debate about leg spinner Adil Rashid's call-up to the England squad for this first Test. Rahane said that they fully expected his inclusion.
"No not at all (surprised). He bowled well against us in the ODIs. He's a very good bowler. Wrist spinners, we all know, they are wicket takers. When we played our practice game, it was like playing in Mumbai or Chennai.
"He's a quality spinner. We don't want to take anyone lightly, be it Adil or Moeen Ali or any of their fast bowlers. We want to focus on our game," Rahane signed off.