On a fairytale 19 match unbeaten streak, India will seek extension of their incredible dominance on home turf when they clash against an aggressive Australia in the four Test series, beginning in Pune on Thursday.
The series against Steve Smith's side is the fourth and last home series of the 2016-2017 season for India, who have conjured up emphatic victories over New Zealand (3-0), England (4-0) and Bangladesh (1-0).
India are going into the rubber, seeking their 7th successive series win going back to the three Test away series against Sri Lanka in 2015.
Rajneesh Gupta presents interesting numbers at the start of the India-Australia Test series.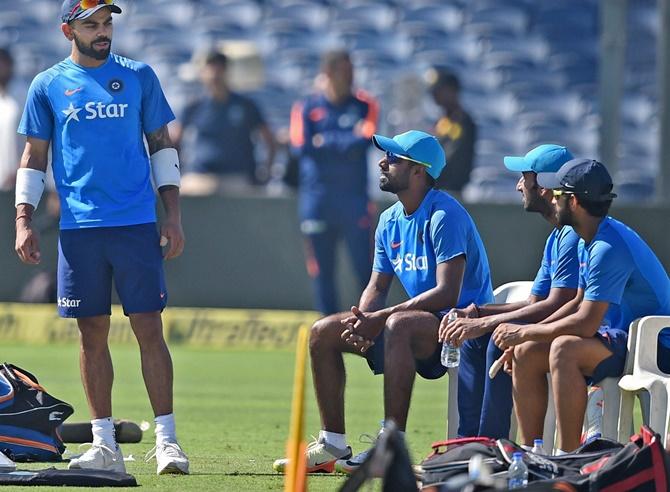 IMAGE: Virat Kohli needs just 64 runs to establish a new Indian record of most runs in a season. Photograph: PTI
7
Number of consecutive Tests Australia have lost on Indian soil since November 2008 -- their longest losing streak in any country.
They had lost six in a row between 1967 and 1994 in South Africa.
73.73
Steve Smith's batting average in Tests in which he has captained Australia. Virat Kohli is not very far away with an average of 67.23 in Tests as captain.
19
Number of Tests Australia have lost on Indian soil -- joint-most by a visiting side, along with England.
Incidentally England have suffered these losses in 60 Tests, while Australia have the identical number of losses in just 46 Tests.
87.91
Difference between Steve Smith's Test batting average against India in Australia and India.
He averages a whopping 128.16 in Australia and only 40.25 in India
64
Number of runs Virat Kohli needs to establish a new Indian record of most runs in a season, beating Gautam Gambhir's 1,269 runs in 2008-2009.
Ricky Ponting holds the world record of most runs in a season, with 1,483 runs in 12 matches in the 2005-2006 season.
4
Number of wickets Ashwin needs to beat Anil Kumble's record of most wickets by an Indian bowler in a season.
Kumble had taken 64 wickets in the 2004-2005 season.
Kapil Dev had a tally of 63 wickets in 1979-1980.
The world record is 78 by Dale Steyn in 12 matches in 2007-2008.
70
Number of runs Steve Smith needs to score to complete 1,000 runs against India.
If he does so in Australia's first innings, he will become the quickest for Australia, beating Matthew Hayden who took 14 innings to reach this landmark.
4
Number of wickets Ravindra Jadeja needs to complete 100 wickets in Tests on Indian soil.
If he does so at Pune, Jadeja will be joint-second fastest for India with Harbhajan Singh and behind Ashwin (16 Tests).
51
Number of runs Mitchell Starc needs to complete 1,000 runs in Tests.
He will also complete the allround double of 1,000 runs and 100 wickets.
Ravindra Jadeja is 76 runs short of completing this allround double.
8
Number of times India beat Australia in India before 2000.
India suffered nine losses during this period.
Since 2000, India have beaten Australia 11 times in India, while suffering only three losses.
23
Number of Tests Virat Kohli has led India in without ever playing the same eleven in consecutive Tests!
The Indian record is held by Sourav Ganguly, who played the same eleven for the first time in his 29th Test as captain.
20
Number of consecutive home Tests in which India have been undefeated since December 2012 -- their joint-longest undefeated streak at home.
They had also not suffered a single defeat in 20 consecutive Tests between 1977 and 1980.
3,630
Runs scored by Sachin Tendulkar against Australia -- the most by any batsman in India-Australia Tests.
Ricky Ponting is second with 2,555 runs, followed by V V S Laxman (2,434) and Rahul Dravid (2,143).
Michael Clarke is the only other Australian batsman to aggregate 2,000 runs against India with a tally of 2,049 runs.
111
Number of wickets Anil Kumble has taken against Australia -- the most by any bowler in India-Australia Tests.
Kumble's tally is in fact the highest for an Indian bowler against any country.
Harbhajan -- with 95 wickets -- is the second highest wicket-taker for India against Australia.
For Australia, Brett Lee with 53 wickets is the highest wicket-taker against India.
3
Number of double hundreds Ricky Ponting has scored against India -- a record in India-Australia Tests.
Sachin Tendulkar, V V S Laxman and Michael Clarke have scored two double hundreds each.
8
Number of ducks scored by Ajit Agarkar and Ishant Sharma against Australia -- a record in India-Australia Tests.
All of Agarkar's 8 ducks came in a span of 11 innings (including seven in a row!).
Ishant has scored four ducks in his last seven innings against Australia, with scores of 1*, 1* and 0* in the other 3 innings.
1
Number of bowlers to take a hat-trick in India-Australia Tests: Harbhajan Singh at Kolkata in 2001.
Harbhajan trapped Ricky Ponting LBW, got another LBW in his favour by dismissing Adam Gilchrist and then had Shane Warne caught at short leg.
8
Number of Tests M S Dhoni has won against Australia -- the most for any captain in India-Australia rivalry.
At the other end of the scale, M A K 'Tiger' Pataudi has lost the most (7).
For Australia, Ricky Ponting has lost the most Tests as captain against India -- six in 11 Tests.
Against all other opponents Ponting suffered only 10 losses in 66 Tests!
25
Number of sixes hit by Sachin Tendulkar against Australia in 74 innings -- the most in India-Australia Tests.
Matthew Hayden -- with 24 sixes in 35 innings -- holds the record for Australia.
32
Number of consecutive Tests Rahul Dravid appeared in against Australia -- between October 1996 and January 2012.
The Australian record is 21 by Michael Clarke, between October 2004 and March 2013.