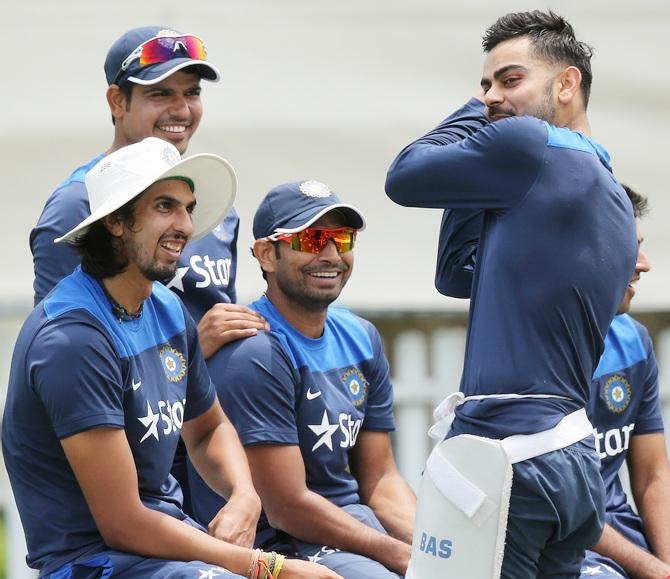 Image: Virat Kohli, right, speaks to his teammates during a training session. Photograph: Morne de Klerk/Getty Imagess
Former Australian cricketer Geoff Lawson feels India would need a combination of tight technique and tough minds to get the better of Michael Clarke and Co. in the much-anticipated Test series starting Adelaide on December 9.
Range of tributes to honour Hughes ahead of first Test
Australia v India: Dhoni's captaincy under the microscope
"They will need some tough minds as well as tight techniques to reverse the away game trend," Lawson wrote in The Sydney Morning Herald.
"On the last trip, Sachin Tendulkar was in search of a 100th international hundred and could find neither the technique nor the temperament to deal with Peter Siddle, James Pattinson, Ben Hilfenhaus, Mitchell Johnson then Ryan Harris and Mitchell Starc.
"The margins of victory varied between significant and humongous – two losses by an inning and one by almost 300 runs," he said.
Lawson also pointed out the upheaval that the Australian team has been going through after the tragic death of Phillip Hughes and said the rescheduling of the series would require some change of tactics by the hosts.
The series, originally scheduled to start in Brisbane from December 4, was reworked to start from December 9 here to allow the players time to mourn Hughes.
"The rescheduling of the first of this four-Test series against India has created a cascade of challenges for the administrators, players, groundsmen and fans. It may have also altered the balance of power between the two teams, he opined.
"As much as India's batsmen (their fast bowlers might be sighing in discontent) will appreciate the change in venue, Australia should be rethinking its own strategy. No longer should there be any thought of an all-seam attack – a battery of that nature could be rationalised in Woolloongabba but isn't necessarily the first choice in north Adelaide.
"Nathan Lyon will be looking forward to the series starting on a dry Adelaide rather than a moist and non-turning Brisbane. The diversion ensures he starts the Test match," he said.
Lawson lauded Indian batsman Virat Kohli for growing rapidly since his last tour.
"Virat Kohli was one of the few who found Australia's quick and bouncing pitches to his advantage three years ago. He is a much better batsman now and he likes a battle."