David Warner has been warned by his cricket Board boss to "stop looking for trouble" after he engaged in verbal spat with Indian opener Rohit Sharma during the tri-series match between their sides in Melbourne on Sunday.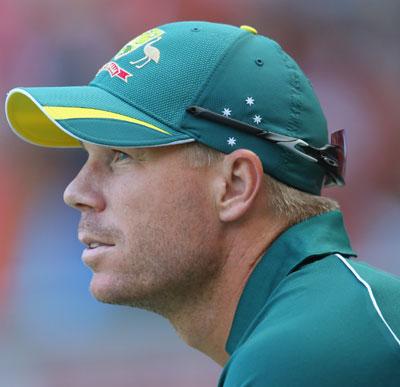 Warner was fined 50 per cent of his match fee from Australia's win over India by the ICC following that incident.
The incident was the latest in quite a few in-your-face confrontations involving Australian and Indian players and not for the first time Warner, a noted antagoniser, was in a leading role.
CA Chief Executive James Sutherland has told Warner in no uncertain terms that he should mend his ways, according to a report.
"I have spoken to David to understand what happened in the incident with Rohit Sharma yesterday and to remind him of his responsibilities as an Australian cricketer and a role model," Sutherland said.
"He has worked very hard on his leadership and behaviour over the past 12 months and I have told him very clearly that instances like this only serve to set back the progress he has made. Quite simply, he needs to stop looking for trouble," he was quoted as saying by Sydney Morning Herald.
Sunday's episode happened after Rohit took an overthrow from an errant Warner throw. Then, Warner was seen to mouth to the Indian century-maker the words "Speak English" after the Australian instigated a confrontation.
Warner argued in a radio interview today that he was simply telling Rohit he could not understand him but Sutherland seemed unimpressed by his explanation.
"This is the second time he has been before the ICC match referee this season and that's twice too often. From my discussion with David, I am satisfied that his comments to Rohit Sharma were not racially motivated. That said, I have reminded him that he needs to carefully reconsider the manner
in which he approaches these sorts of situations in the future," said the CA boss.
Before the fourth Test against India in Sydney, Warner had called for a truce on "send-offs" for opposition batsmen. His recent altercation with Rohit was not in that category but was similarly ugly.
Image: David Warner of Australia during the One Day International against India at the Melbourne Cricket Ground.
Photo: Scott Barbour/Getty Images