'No 4 is quite a good position for any good batsman'
'In Australia and New Zealand you can lose wickets quickly and with Virat at three, he might be vulnerable'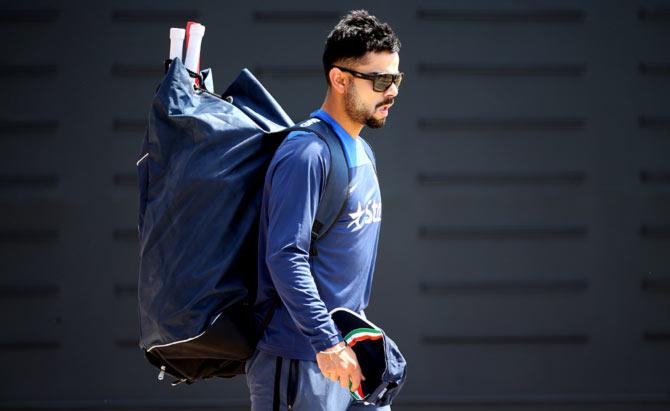 Virat Kohli during a training session in Adelaide. Photograph: Morne de Klerk/Getty Images
Virat Kohli's form may have taken a hit since dropping to number four in the batting order, but West Indian legend Sir Viv Richards feels the marauding cricketer should continue in the position if that is what the Indian team requires.
The Men in Blue are currently involved in a tri-series with Australia and England, a dress-rehearsal for the upcoming ODI World Cup.
Kohli has batted at number four in the first two losses at Melbourne and Brisbane, scoring 9 and 4 runs, leading to a huge debate. Skipper Mahendra Singh Dhoni later justified this ploy saying that it allows the star batsman to control the innings whether batting first or chasing a target.
"I believe number four is quite a good position for any good batsman," agreed Richards.
"If Virat is feeling comfortable batting in that position, then it is good for their team. Because, personally, I feel Virat is good enough to bat almost anywhere, at whichever spot in the batting order," Richards added.
"On these bouncy Australian wickets, there will always be some batsmen who are going to get outdone by that, especially early in the order. It makes sense to have Virat Kohli bat at number four in such a scenario then because he can dictate terms whatever situation the match is in."
Kohli has quickly climbed the popularity charts as an Indian batsman, not only among the fans but also among his colleagues, present and past.
'Virat at three might be vulnerable'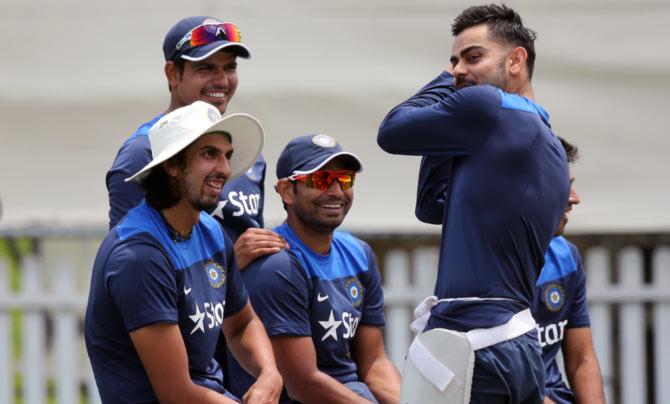 Virat Kohli (right) speaks to his teammates during a training session in Adelaide. Photograph: Morne de Klerk/Getty Images
Among them, Richards has always been a fan of his attacking batting, even likening the young cricketer to his own playing days at one point of time. Kohli has also drawn parallels with Australian great Ricky Ponting. Both of them batted at number three, irrespective of tournament conditions, making this spot their own.
"There are always some people who say that your best player should come in at number three. But it is tough to say these things from the outside and you don't know the team situation and you have to consider the conditions as well that are also an obvious factor here," Richards explained.
"In Australia and New Zealand you can lose wickets quickly and with Virat at three, he might be vulnerable. Coming in at number four, he will have a better perspective of the innings going forward. Whether batting first or chasing, he will know the requirements and bat accordingly," he said.
'Virat feels he is of more use to the team at number four'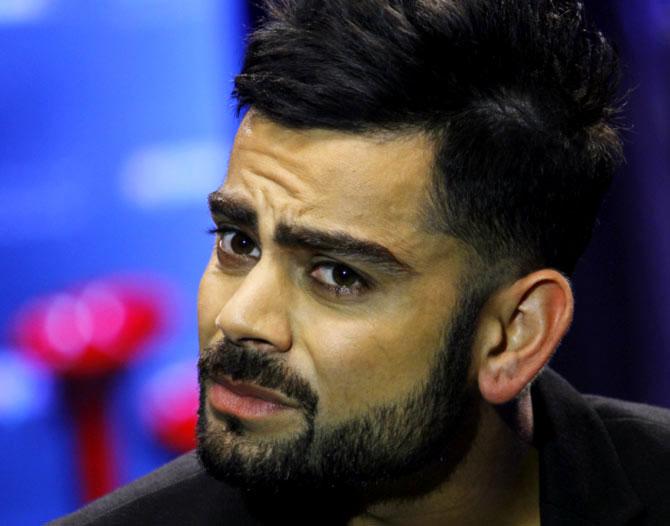 A pensive Virat Kohli. Photograph: Hitesh Harisinghani/Rediff.com
Kohli has scored 14 of his 21 ODI hundreds batting at number three. But he has enjoyed his fair share of success at the number four spot as well. That is where he batted in the 2011 World Cup, getting a hundred against Bangladesh in the opening game and building a solid partnership with Gautam Gambhir in the final against Sri Lanka.
It is also where he scored that marauding 133 not out against Sri Lanka at Hobart on the 2011-12 tour here, blowing Lasith Malinga away.
"I guess Virat feels he is of more use to the team at number four. And it is all about the team, not any personal individual, however good he is. It is about the contribution he can make to the team coming in at number four.
"He has been fairly successful doing it at number four, so I think it's a good place to be and I think will bring balance to the Indian batting order as he can dictate terms in a big way," said Richards.
Shikhar Dhawan and Rohit Sharma have been inconsistent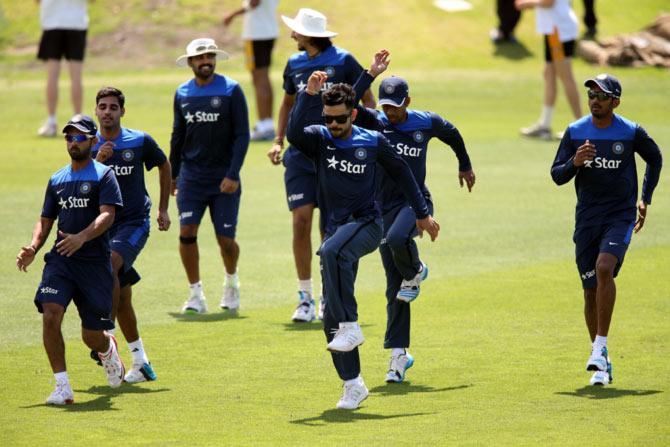 India's players warm up during a training session. Photograph: Morne de Klerk/Getty Images
This move has also been necessitated by the failure of Ajinkya Rahane and Ambati Rayudu to make the number four spot their own, when they were afforded opportunities in the past calendar year.
They feel more comfortable batting further up. However, the same top-order, including Shikhar Dhawan and Rohit Sharma, has been inconsistent at best. And the onus will be on them to give Kohli the necessary platform if this move is to succeed for India.
"India have enough good batsmen in their line-up. Rohit Sharma is good when on song. Shikhar Dhawan is an attacking player who has been struggling a little off-late and then Ajinkya Rahane at three. They have been tried and tested and they have done very well," said the legendary batsman.
"Fifty overs is a hell of a long time and you are playing on wickets that will always give assistance to seamers. There will be added bounce and so you want your best player at the crease when he should be able to dictate terms to the opposition," Richards signed off