'You cannot possibly score double hundreds all the time. But the intention is to keep trying to score as many runs as possible'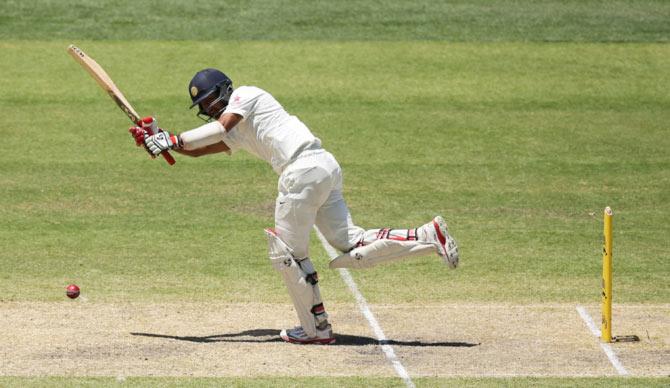 Cheteshwar Pujara of India bats. Photograph: Morne de Klerk/Getty Images
Having done his bit with the bat, Cheteshwar Pujara said India's strong reply on Day 3 of the first Test against Australia in Adelaide meant the team's young batsmen proved themselves.
After Australia declared their first innings at the overnight score of 517 for 7, India finished the day on 369 for 5, with Virat Kohli registering his seventh Test hundred and Pujara a fine 73.
"We discussed yesterday (Wednesday) that we needed to fight back in the match," said Pujara, after Thursday's play.
"We talked about what they have scored on this pitch and the kind of wicket this is. We discussed that given the batting line-up we have we can surely achieve this.
"Overall, we have a very good, young batting line-up and it was about proving ourselves. We did that and we are in a good position to achieve our targets," he added.
Virat Kohli congratulates teammate Cheteshwar Pujara after completing his half-century on Thursday. Photograph: Morne de Klerk/Getty Images
This was Pujara's second half-century in his last 16 Test innings, the last coming in England, where he had a miserable time on the tour.
Thereafter he had a stint with Derbyshire to improve upon his batting and it seems to have finally paid off.
"I have prepared hard for this tour. I believe in preparation, and even though I just scored 73 runs, I am quite happy with how it worked out for me.
"Earlier, at times, I have been getting good starts but have not been able to capitalise on them," said the Saurashtra batsman.
"You cannot possibly score double hundreds all the time. But the intention is to keep trying to score as many runs as possible. You also have to respect the opposition.
"When I do get out, I analyse what went wrong and what are the areas I can work on to become a better player."
Pujara is well aware that conditions Down Under are quite different from the rest of the world.
"The conditions here are quite different from the ones in Derbyshire. But playing there helped me obviously. When you play there in England, you have fast bowlers swinging the ball all the time because they get help from the wicket.
"You have to be technically correct all the time to survive there and so it does help."
© Copyright 2022 PTI. All rights reserved. Republication or redistribution of PTI content, including by framing or similar means, is expressly prohibited without the prior written consent.