'When you are not fielding at your best, then everything else also doesn't go in your favour'
'We were lucky that the coin fell our way and it was a fantastic toss to win'
'I had a tear in my eye this morning when I walked out to warm-up and I saw his family there in the stands'
'It's just courageous for them to be here, and I applaud them for making the effort'
'That score (63*) is always at the back of my mind. I am going to pay tribute to my little mate always, whether I am going to be on 63 or 100'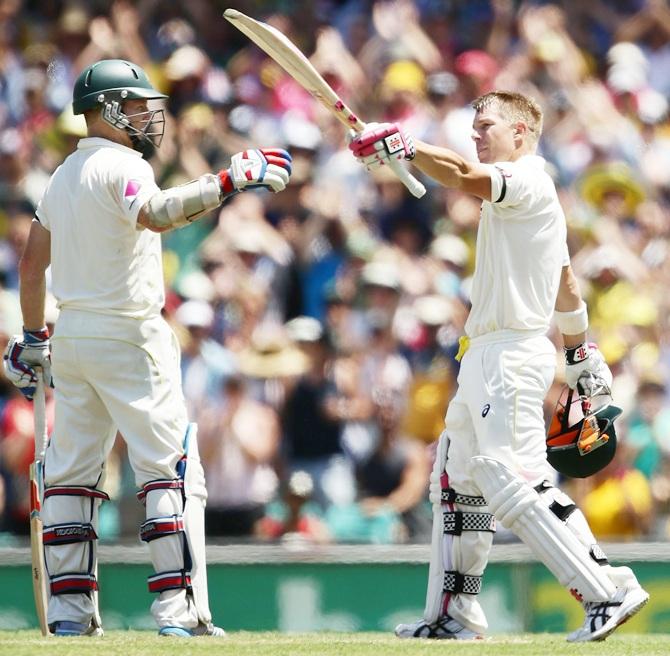 David Warner of Australia celebrates and acknowledges the crowd after scoring a century. Photograph: Matt King/Getty Images
Australian opener David Warner on Tuesday said that a good pitch coupled with India's poor bowling and fielding helped him score his third hundred of the series and place Australia at a commanding 348 for two at stumps on day one of the fourth and final cricket Test at Sydney Cricket Ground.
PHOTOS, Day 1: Warner inspires Australian domination
Sydney Test: Clarke pays a stirring tribute to Hughes
Warner hit 101 and Chris Rogers made 95 as Australia put on 200 runs for the opening wicket to give the hosts a rousing start. The batsmen benefitted from some poor fielding, as Rogers was dropped on 19 by KL Rahul at second slip, while Shane Watson, too, enjoyed a life as R Ashwin let go off a chance at first slip off the penultimate ball of the day.
"When you are not fielding at your best, then everything else also doesn't go in your favour. If your tempo is upbeat from the start, you take those chances. We too have done it before, dropped a couple of chances in the slips," Warner said after the first day's play.
"It does really set your tone from ball one, if you're up and about that sets you. We try and thrive on that when we see that. I think their heads were down when we were 100 for no loss and that's expected some times in the field. They didn't get their line and length right.
"Also there was no swing and sideways movement so you have to try and dry up the runs somehow. It must have been frustrating for Virat Kohli because it is tough to captain when the bowlers bowl both sides of the wicket," he explained.
'Hope the dropped catch turns Watson's luck around'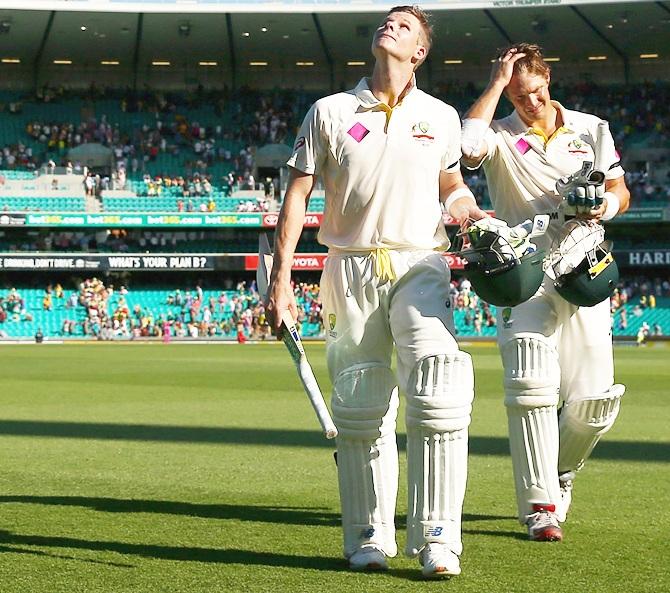 Australian captain Steve Smith and team mate Shane Watson walk off the field. Photograph: Cameron Spencer/Getty Images
Warner, however, admitted that Australia were lucky to have won the toss.
"We were lucky that the coin fell our way and it was a fantastic toss to win. 348/2 is a fantastic position to be in. There was no swing or sideways movement at all, so it was quite challenging for the Indian bowlers. It's going to be challenging for us to take 10 wickets as well. We have to dry runs up when we bowl," Warner said.
Australia have the advantage at the moment with Watson (61 not out) and captain Steven Smith (82 not out) having already added an unbeaten 144 runs for the third wicket, and Warner hopes that India do not make quick inroads on day two.
"I really hope the dropped catch turns Watson's luck around. He's been training very hard the last couple of days and it was unfortunate that he was sick before the match. The amount of time and effort he puts into training is unbelievable. He really deserves a big one coming out tomorrow and hopefully he does get that big one.
"He and Smith are doing a fantastic job at the moment and hopefully they can pile on the runs tomorrow," he wished.
'That score (63*) is always at the back of my mind'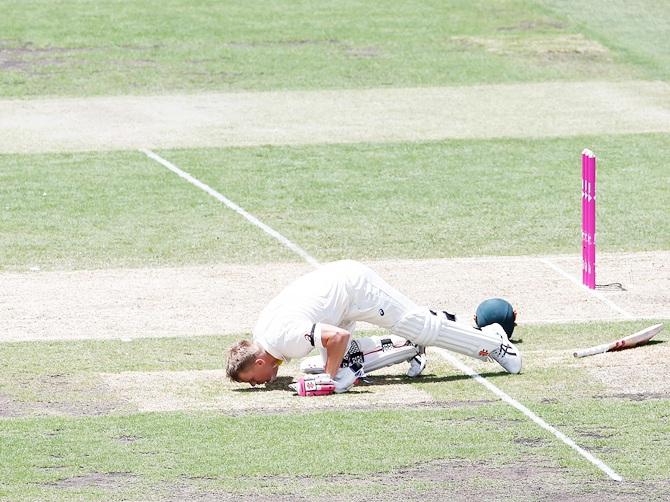 David Warner of Australia kisses the ground after scoring 63 runs in memoriam of late Australian Cricketer Phillip Hughes. Photograph: Daniel Munoz/Getty Images
Warner paid a touching tribute to his late team-mate Phillip Hughes when he was on 63, as he bent down and kissed the ground where he had fallen after being hit by a bouncer in late November. The hundred, too, was another special moment for the batsman.
"It's great to get milestones and it is a hundred. I've done my job for the team as well as I can. The thing I'm most proud of is actually putting up a double century partnership with Rogers, our first one. We bat very well together and I think that's the highlight today for me.
"I had a tear in my eye this morning when I walked out to warm-up and I saw his family there in the stands. The hurt and the pain they've gone through and how much it would have hurt them to come back today - it's just courageous for them to be here, and I applaud them for making the effort."
"That score (63*) is always at the back of my mind. I am going to pay tribute to my little mate always, whether I am going to be on 63 or 100. Every time I play here I'll definitely be doing that," he said.