India's batsmen came good on a flat track to put up 369 for 5 on Day 3 of the first Test against Australia in Adelaide on Thursday. Wriddhimaan Saha (1) and Rohit Sharma (33) were at the crease at the draw of stumps. Images from the day's play.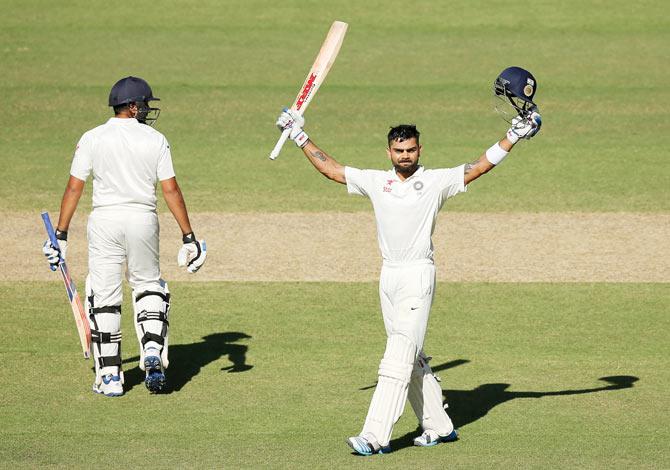 India captain Virat Kohli celebrates after completing his century on Day 3 of the first Test against Australia at the Adelaide Oval on Thursday. Photograph: Morne de Klerk/Getty Images
Captain Virat Kohli (115) struck a fine century to help India post a strong reply to Australia's mammoth total of 517 for 7 on Day 3 of the first Test at the Adelaide Oval on Thursday.
India's batsmen came good on a flat track, as the visitors ended the day on 369 for 5 (97 overs). Wriddhimaan Saha (1) and Rohit Sharma (33 off 66 balls) were at the crease at the draw of stumps.
Kohli dug deep to improve on his horrible showing in England as he completed a beautifully compiled century that was inclusive of 12 boundaries. But just before close of play, a superb low catch by Ryan Harris at fine leg saw him walk back to the pavilion.
Mitchell Johnson banged one in short, Kohli went for the pull but failed to middle it, bringing an end to his commendable innings.
Kohli is the third Indian to score a century on his captaincy debut, after Vijay Hazare and Sunil Gavaskar.
This is Kohli's second century at Adelaide and fourth overseas out of seven overall in Tests.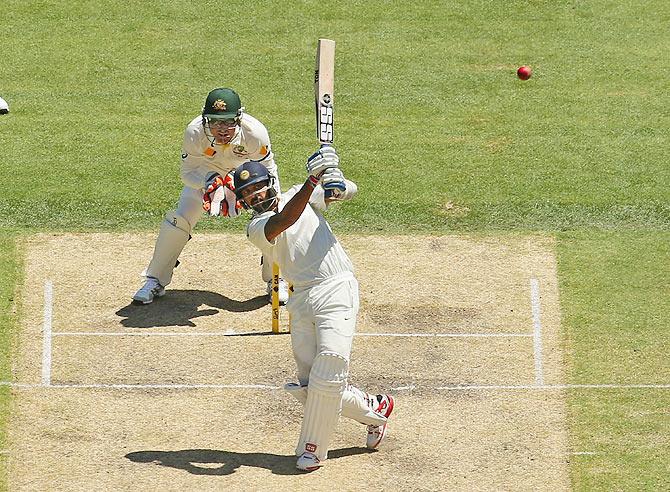 India's Murali Vijay hits a six on Day 3. Photograph: Scott Barbour/Getty Images
But that was not before openers Murali Vijay and Shikhar Dhawan put on a strong reply after Australia declared their innings closed at 517-7 before the start of play.
India's batsmen played a controlled innings as they took guard and prospered for much of a sunny morning on a benign Adelaide Oval wicket.
Vijay and Dhawan played with positive intent and went after the bowling.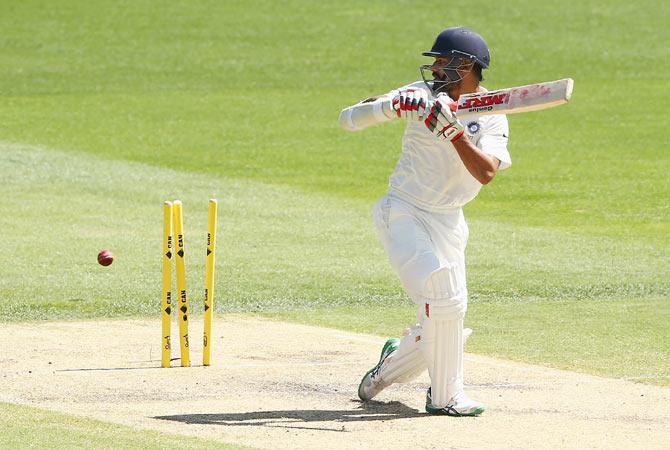 Shikhar Dhawan is bowled out by Ryan Harris. Photograph: Robert Cianflone/Getty Images
Their attacking mindset bore positive results and Dhawan, who was the more aggressive of the two, raced to 25 off just 24 deliveries.
However, his innings was cut short when Harris had him bowled out.
Harris sent in a probing delivery that nipped back a fraction to catch an inside edge and cannoned onto the stumps.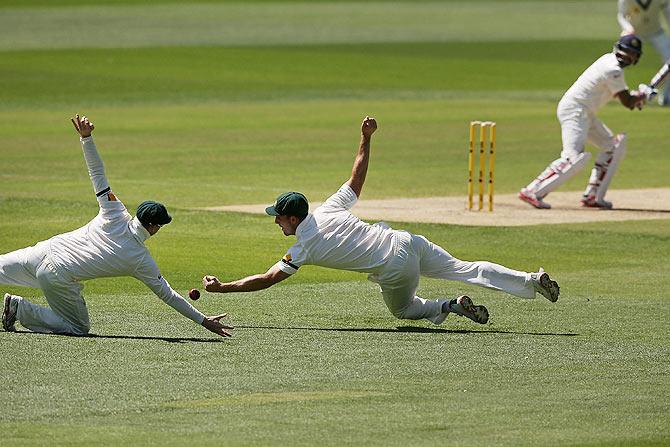 Slip fielder Mitchell Marsh, next to Steve Smith (left), drops an edge from Cheteshwar Pujara. Photograph: Michael Dodge/Getty Images
Vijay and Pujara then frustrated the bowlers for much of the morning, the opener taking a liking to Nathan Lyon, clubbing him for a six over his head and a four with the same shot off the next ball.
Vijay whipped three runs off his pads off Harris to raise his half-century shortly before lunch.
A lunging Mitchell Marsh, fielding in the slips in place of Michael Clarke, earlier missed a half-chance when Mitchell Johnson coaxed a nick from Vijay that rocketed between the all-rounder and Steven Smith when the batsman was on 11.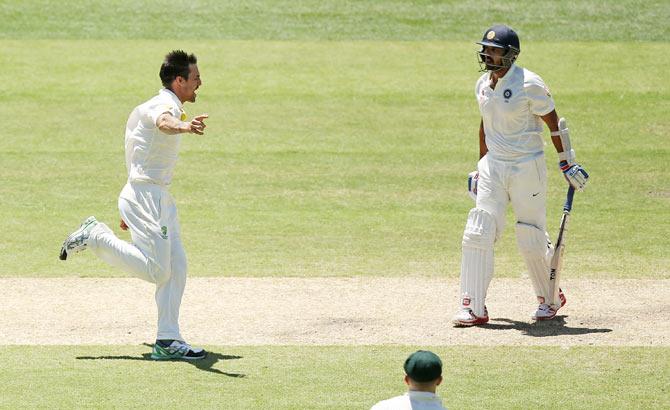 Mitchell Johnson celebrates after dismissing Murali Vijay. Photograph: Morne de Klerk/Getty Images
Before lunch, Johnson shook India by taking a wicket and striking captain Kohli on the head as the tourists reached 117 for two at the break.
The menacing left-armer had a wayward spell with the new ball early but came back with a vengeance to break an 81-run partnership between Murali Vijay and number three batsman Cheteshwar Pujara.
Johnson teased a nick from Vijay into the slips to remove the opener for 53.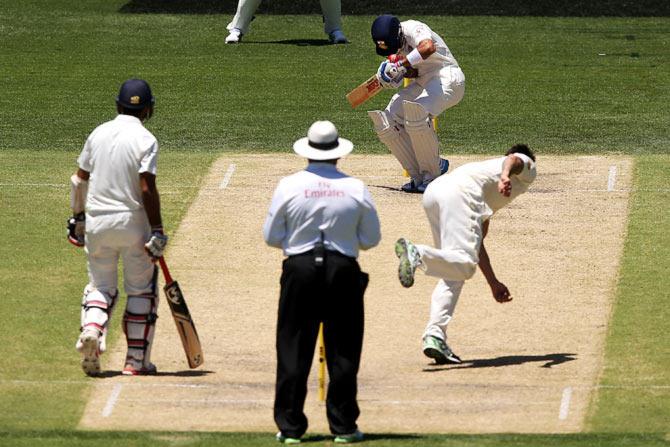 Virat Kohli is hit on the helmet by a bouncer from Mitchell Johnson. Photograph: Michael Dodge/Getty Images
India's stand-in captain welcomed to the pitch in the 31st over by a Johnson bouncer that struck the Delhi batsman on his helmet
The right-hander ducked but was hit on the badge of his helmet, prompting him to take off it for a moment. A nervous Johnson immediately rushed to check on Kohli's well-being and Clarke consoled Johnson as the paceman walked back to his mark visibly distressed.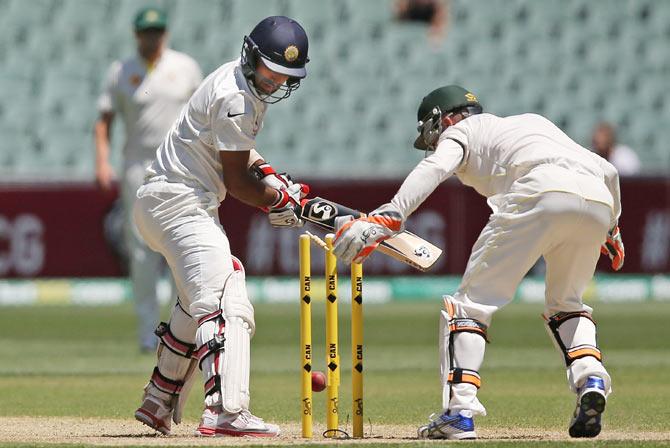 Cheteshwar Pujara is bowled by Nathan Lyon as wicketkeeper Brad Haddin celebrates. Photograph: Michael Dodge/Getty Images
Kohli was unharmed, however, and moved serenely through the middle session on a flat wicket, offering little encouragement for the pace bowlers but some turn for offie Lyon.
After lunch, Lyon bowled a line and length that put the batsmen under pressure and tried to make runs difficult to come by but to no avail.
Shortly after the break, in the 37th over, the Saurashtra batsman reached only his second half-century in the last 17 Test innings. He faced 96 balls in doing so and hit six boundaries.
The two batsmen scored runs quickly and their 50-run stand for the third wicket came up in the 39th over off only 54 deliveries.
Pujara and Kohli added 81 runs after lunch before Lyon struck after a sustained period of pressure, bowling the number three batsman with a delivery that dribbled through his legs and onto the stumps.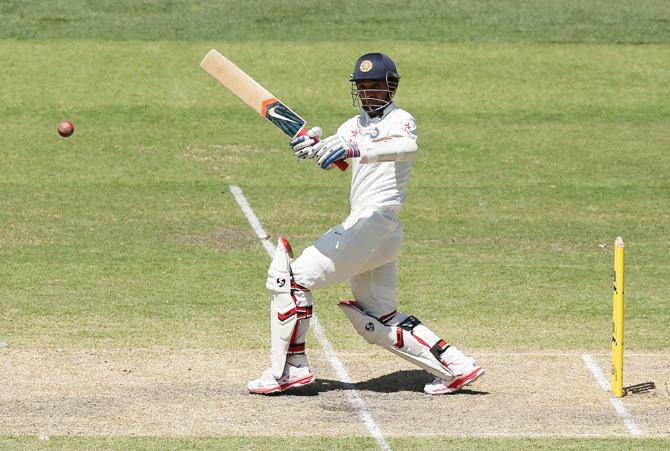 Ajinkya Rahane plays a shot on the on-side. Photograph: Morne de Klerk/Getty Images
But on a track that was good for batting, the Indian batsmen continued to make merry. Ajinkya Rahane replaced Pujara in the middle and continued in the same vein as the others before him.
Kohli led from the front, timing the ball to perfection, finding the odd boundary and stealing some quick runs.
Rahane played Kohli's wing-man to perfection. He rotated the strike and some played some risky shots that paid him rich dividends.
Together with Kohli, he added a watchful 31 runs for the fourth wicket as India crossed the 200-run mark in the 56th over.
He drove well and pounced on the poor deliveries off the bowling of Peter Siddle to keep the scoreboard ticking.
After tea India were aggressive and Rahane the leader in the attack.
Rahane was finally dismissed when a Lyon delivery rose sharply after hitting the rough and took his glove on the way to Shane Watson at slip.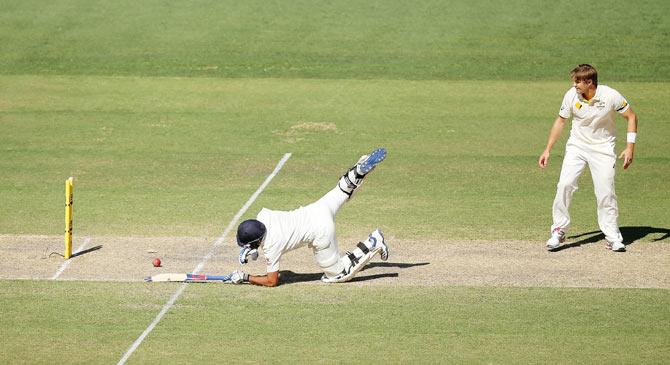 Shane Watson looks on as Rohit Sharma makes his ground. Photograph: Morne de Klerk/Getty Images
Kohli was then joined by Rohit Sharma at the crease. Nothing seemed to change as the pitch played beautifully, allowing the batsmen to play full-flowing cover drives.
Rohit found his first boundary off the bowling of Lyon.
Johnson came back into the attack along with Marsh to try and plug the runs, but that did not stop Kohli from completing a well-deserved century.
Sharma, at the other end, looked sublime and found the boundaries whenever he met with a bad ball.
He got to the pitch of the deliveries and took Lyon to task, hitting him to the fence at the slightest opportunity.