In the end it came in as a quiet announcement on the social network. But MS Dhoni had made his decision. He knew it was the right time to bid adieu to Test cricket, says Bikash Mohapatra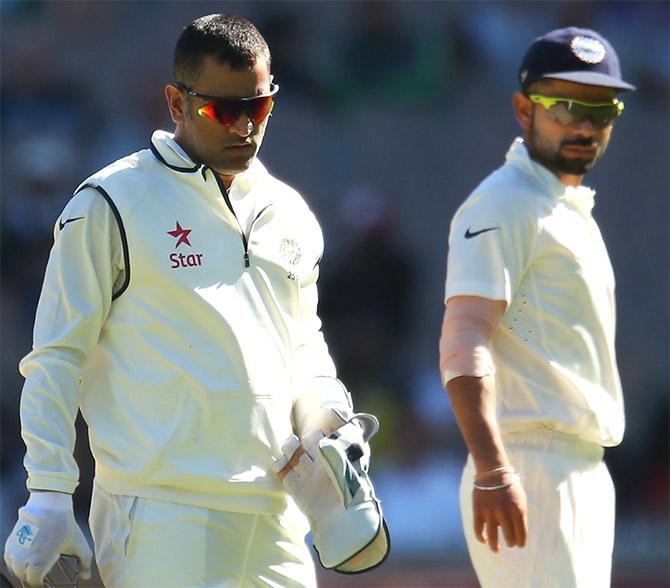 MS Dhoni and Virat Kohli of India during day one of the Third Test against Australia at Melbourne Cricket Ground. Photograph: Scott Barbour/Getty Images
In the end it came in as a quiet announcement on the social network.
M S Dhoni has chosen to retire from Test cricket with immediate effect, said the BCCI release.
The same came shortly after Dhoni had led India to a credible draw in the third Test against Australia at the Melbourne Cricket Ground.
The result ensured India lost the series. It also meant India avoided a possible whitewash, akin to the one it suffered during the last visit Down Under.
Coming in to bat with India in a spot of bother (at 141 for five), Captain Cool kept his cool and his unbeaten 24 ensured India avoided another possible embarrassment.
The verdict on Dhoni, as both a player and a captain is unanimous in the shorter versions (the ODIs and the T20s). The Ranchi-born player successfully led the team to the inaugural World T20, the Commonwealth Bank Championships in 2008, that elusive second World Cup in 2011 and a maiden Champions Trophy title last year.
However, the jury is divided when it comes to the game's traditional format.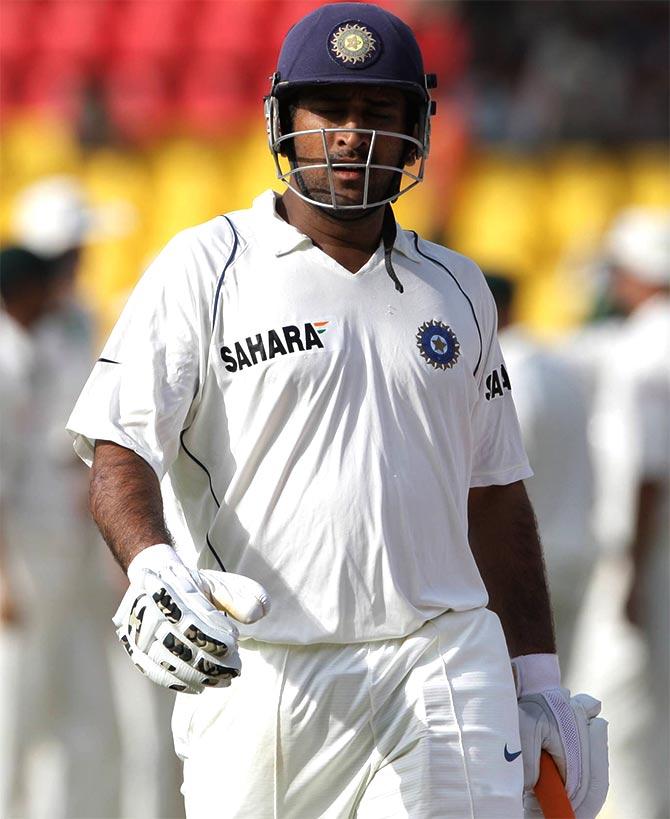 MS Dhoni in action during the Test series against South Africa in April 2008. Photograph: Duif du Toit/Gallo Images/Getty Images
Statistics can be a double-edged sword. In the case of Dhoni, that is definitely the case.
While on the one hand they will point out (for the next few years at least) that Dhoni is India's most successful Test captain – with 27 wins in 60 matches, on the other they will also indicate he has the most Test defeats overseas – 15 of his 27 reverses having come out of the sub-continental comforts.
Also, while they affirm him as the captain who took India to the No.1 spot in Test rankings, they also indicate his underwhelming record in the five-day format.
For any batsman to be considered as a Test great, a career average of 40 is the required barometer. Unfortunately for Dhoni, he decided to call it a day when his average was just over 38.
First handed the reins owing to the unavailability of incumbent Anil Kumble, in the third and final Test against South Africa in Kanpur in 2008, Dhoni began with an emphatic win, the result helping India square the series.
Six months after, he assumed full-time control over the position, celebrating the same with a series win against the visiting Australians.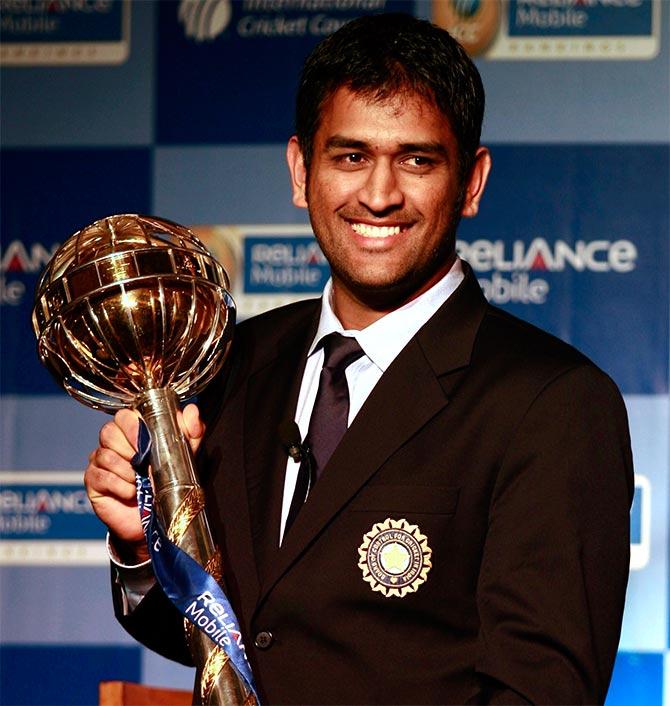 Mahendra Singh Dhoni poses with International Cricket Council's (ICC) Test championship mace at a felicitation function in New Delhi on December 27, 2009. Photograph: Rupak De Chowdhuri/Reuters
A little over a year later, Dhoni had led India to its 100th Test match win -- over Sri Lanka at Green Park (Kanpur) in December 2009 -- and the No.1 ranking, something they held onto till August 2011.
In fact between December 2009 and August 2011 things were hunky dory for Dhoni and India. The team had a record of 10 wins against just three defeats, and that included series wins in New Zealand (after 37 years) and the West Indies and a drawn series in South Africa.
It was at Lord's, in what the 2,000th Test match ever and the 200th against England, that India's decline began. Dhoni could do little as his side suffered 0-4 humiliation in back-to-back series in England and Australia.
While the ploy to plot revenge in a home series backfired against England -- with Alastair Cook's side winning 2-1 -- Dhoni and Co did manage to wreak vengeance against the visiting Aussies a few months later.
Even as India responded with a 4-0 whitewash of the team from Down Under, Dhoni became India's most successful Test captain -- India's victory in the second Test in Hyderabad helping him surpass Sourav Ganguly's record of 21 Test wins.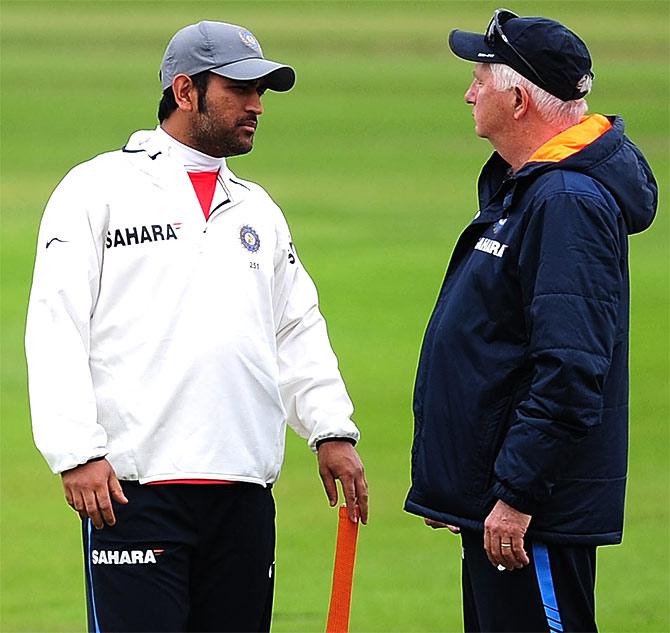 Mahendra Singh Dhoni talks with coach Duncan Fletcher during the tour of England in 2011. Photograph: Laurence Griffiths/Getty Images
However, back-to-back away series reverses against South Africa, New Zealand, England and now Australia meant there were criticisms from all quarters.
"It's not just these two matches, it's for a while now (that Dhoni has struggled). He just has not really got the team going at Test match level," Ganguly was quoted as saying after India lost the second Test in Brisbane.
And the series reverse -- despite the draw in Melbourne -- has proven to be the final straw.
While India's performance went from bad to worse, what hasn't helped matters for Dhoni is his own form, rather lack of it, with the bat.
In the 2011-12 season, when India lost eight successive Tests overseas, Dhoni averaged just 27 with the bat. This season he averages only 32.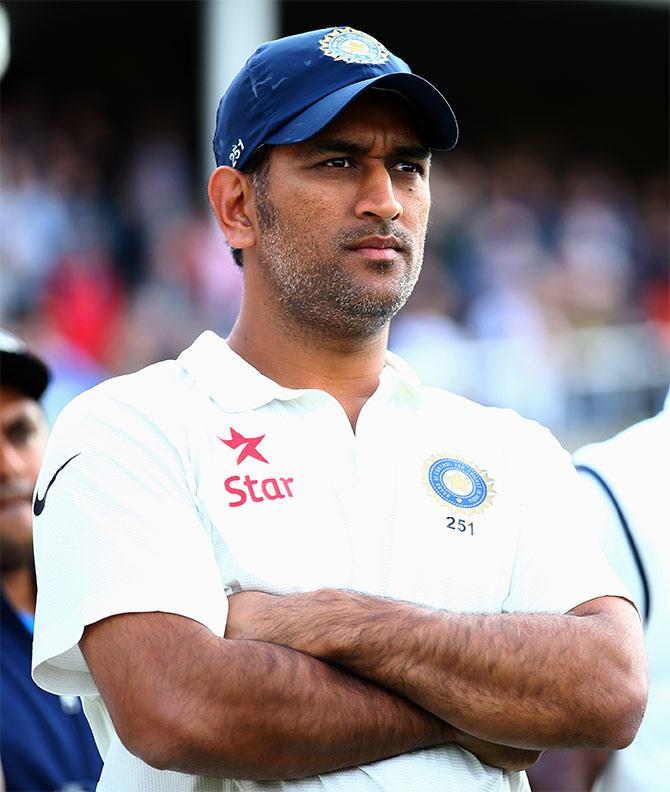 MS Dhoni looks on after India lost the match to England at The Oval on August 17, 2014. Photograph: Paul Gilham/Getty Images
As mentioned above, he averaged a touch over 38, scoring 4,876 runs in his 90 Tests. Besides, it is usually tough to select the best knock of the top Test players. In the case of Dhoni, it is probably the easiest thing to do.
The 148 that he scored against Pakistan in Faislabad (in 2005), in what was only his fifth match, the unbeaten 76 against England at Lord's in 2007, that helped India draw the match and subsequently win the series and the 224 against Australia in Chennai – his best score – are without doubt his three best efforts.
There were four more hundreds and 32 fifties as well. But nothing as impactful as the ones mentioned.
On the contrary, his recent form with the bat has been subject to criticism. In none of his last five series did Dhoni average above 40. This, coupled with deputy Virat Kohli's consistent run of scores, meant there were calls for him to be replaced.
With his team failing to provided a boost to his sagging fortunes, it was a matter of time he retired.
Many presumed it will be some time after the World Cup next year, in one of the home series. However, his sudden announcement has been somewhat of a surprise, albeit not a shock.
Dhoni had made the decision. He knew it was the right time.