'I want to focus on Test cricket as much as I can, because that's the way forward for me'
'I don't want anything clouding my mind or any regrets saying, if I didn't play this T20 series I might have been better'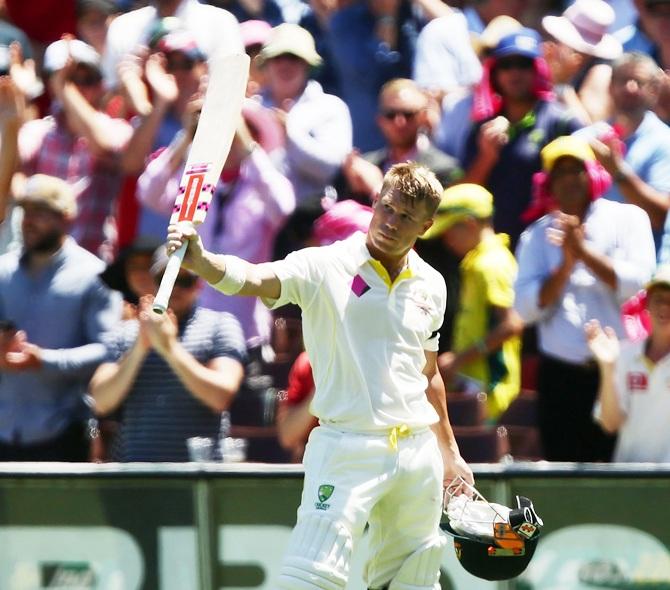 David Warner of Australia acknowledges the crowd after being dismissed during Day 1 of the fourth Test against India at Sydney Cricket Ground. Photograph: Matt King/Getty Images
Australian Opener David Warner is worried about mental fatigue that creeps in from playing non-stop cricket and said he might quit the Indian Premier League (IPL) to concentrate on Tests.
PHOTOS, Day 1: Warner, Rogers give Australia great start
Sydney Test: Clarke pays a stirring tribute to Hughes
"I Pinch myself every day that I'm opening the batting for Australia in Test matches, especially on an occasion like this at the Sydney Cricket Ground. And from now until I retire, I want to focus on Test cricket as much as I can, because that's the way forward for me," Warner wrote in a column for Herald Sun.
"I started off playing Twenty20 and it was fantastic — I still love playing for my country in that format. But in the future I may need to weigh up my options and at the very least, consider how much longer I play in the IPL for.
"I'll play in the IPL this year, but the schedule is so hard for us to play and there's six weeks you could have off," he added.
The 28-year-old burly cricketer said he doesn't want to burn out playing too much cricket as the next five years of his career will be crucial.
"We've got a long 18 months ahead and I need to have a clear mind about where I want to go for the next five years right through to the end of my career," he wrote.
'I never want Test cricket to be taken away from me'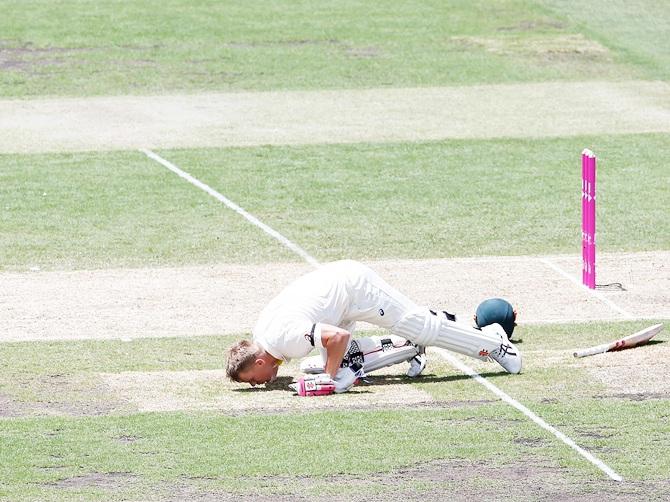 David Warner of Australia kisses the ground after scoring 63 runs in memoriam of late Australian Cricketer Phillip Hughes. Photograph: Daniel Munoz/Getty Images
"My forearm and thumb are both really sore leading into this Test, not that there's anything courageous about me taking the field.
But it's more mental tiredness that I'm worried about. I've felt it before and I don't want to burn out."
Explaining his reasons, Warner further said, "You've got the greats of the game that have scored over 15,000 runs and over 10,000 runs, but they never had to balance the amount of cricket that's played now, particularly Twenty20s.
"For me, it's about sacrificing some things to try and get myself an extra 50 Test matches and play the best cricket I can. To do that, you need to weigh up your options.
"I never want Test cricket to be taken away from me or hindered by exhaustion. I don't want anything clouding my mind or any regrets saying, 'if I didn't play this T20 series I might have been better'."
Warner said last four years have been very hectic for him and he wants to balance the workload now.
"For the last four years I've been pretty much on the run with the international schedule and it does take a toll and coming up we've got the World Cup, a West Indies Tour, the Ashes, Bangladesh, the home summer, then away to New Zealand," he wrote.
"The amount of flying we do, combined with the training, it's taxing. There has to come a point where I've got to be smarter about I balance my workloads."
'Aggression that comes out on the field with Kohli, you take as a positive'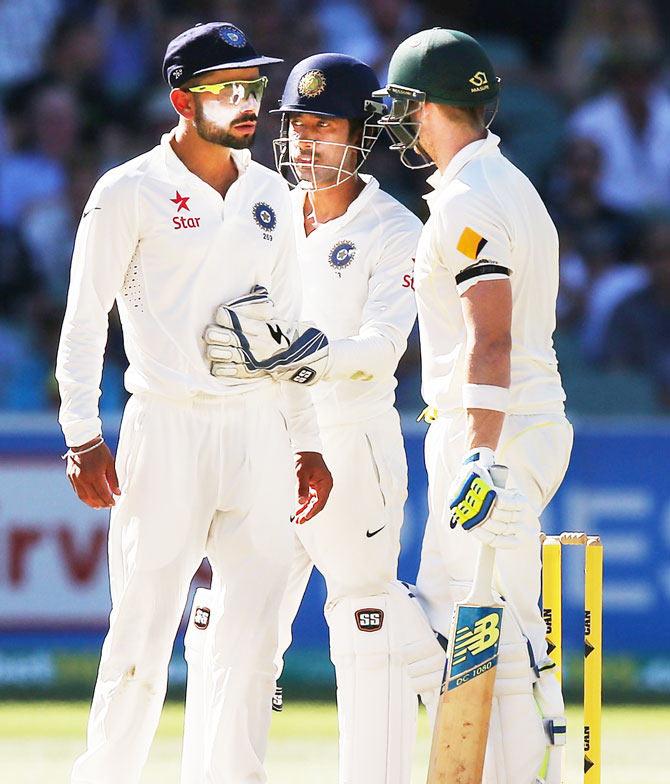 Virat Kohli of India is held back by keeper Wriddhiman Saha as he has words with Steve Smith of Australia. Photograph: Michael Dodge/Getty Images
He also had good things to say about new India skipper Virat Kohli.
"I think he's going to be a fantastic captain for India. The aggression that comes out on the field with him, you take as a positive," he wrote.
"We saw Michael Clarke last year against England and James Anderson. If you're going to have a go at some of our players, our senior players will stand up.
"To see your captain firing like that, shows everyone you mean business. Sometimes you need to nudge that line, and captains are prepared to do that. Kohli's appointment shows you can have those kind of personalities in charge."