- 'I think patience will obviously be the key'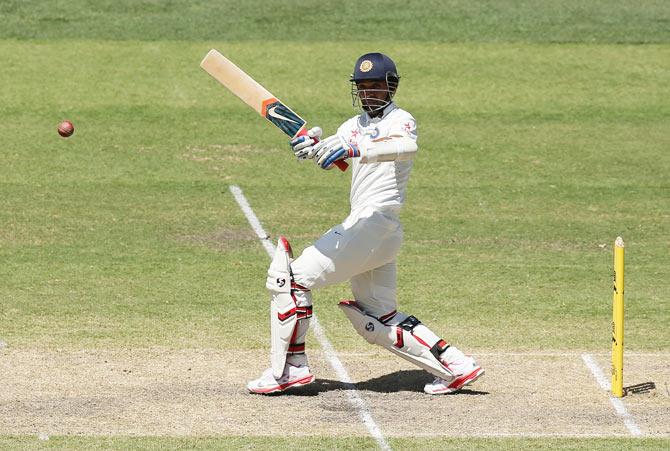 Ajinkya Rahane plays a shot on the on-side. Photograph: Morne de Klerk/Getty Images
With India staring at a big total by Australia, batsman Ajinkya Rahane feels that the visitors have to face the situation by keeping calm and patient on the fifth and final day of the Adelaide test to remain in contention.
- 'There's a nice rough area for Lyon to exploit tomorrow'
Riding on David Warner's century, the hosts ended Friday on 290 for five, stretching their second-innings lead to 363 runs.
"I think patience will obviously be the key. The challenge will be to keep going if you get a start and it is going to be a test of our mindset on a fifth day pitch. All our batsmen have got good skill. So if we apply ourselves well tomorrow, then I'm sure everyone will do well," said Rahane.
India have looked to target spinners in overseas Tests and the ploy hasn't worked recently. In England they gave away 24 wickets to Moeen Ali and here in the very first innings in Australia, Nathan Lyon took 5-134.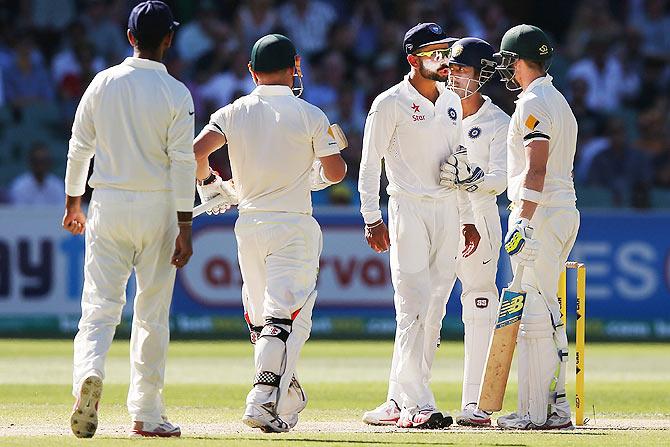 Virat Kohli of India is held back by 'keeper Wriddhiman Saha as he exchanges words with Steve Smith on Friday. Photograph: Michael Dodge/Getty Images
"We are working on this aspect individually and as a batting unit. We are practising against spin and looking at ways to counter it. Personally, I think wherever we have played the opposition bowlers abroad, we have played well and they too have bowled well at us, before in England or here in Australia," said the batsman.
However on a day when tempers rose -- Warner and Varun Aaron were involved in a heated exchange after the Indian pacer bowled Warner off a no-ball. Shane Watson, Shikhar Dhawan and Indian skipper Virat Kohli also got involved in the verbal exchange.
Later there was another altercation between Rohit Sharma and Steve Smith, and on both occasions, the umpires had to intervene.
Rahane believes it's all part and parcel of the game.
"It was competitive in the middle. It is always competitive between India and Australia and this is something good for cricket. What happened on the field is part and parcel of the game. I felt both the umpires handled it really well. Things like these always happen in cricket," Rahane said.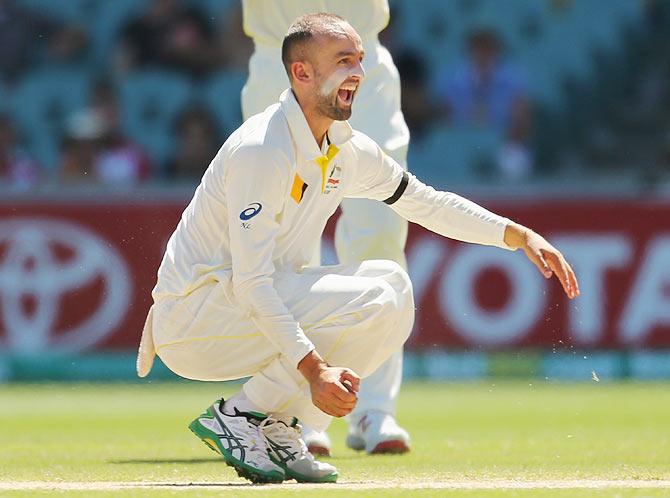 Nathan Lyon celebrates after taking a catch off his own bowling to dismiss Rohit Sharma on Friday. Photograph: Scott Barbour/Getty Images
Batting last on the fifth day of a Test match is not easy on any pitch and Australian spinner Nathan Lyon might be a force to reckon with when India come out to bat. Rahane became the off-spinners victim in the first innings but believes that 'tomorrow is another day'.
"Nathan Lyon is an experienced bowler and he bowled really well. That was an unplayable delivery but it happened and that's past now," said the batsman referring to his first-innings dismissal.
"We just have to focus on the present. We have to apply our minds and if we do that I am sure we will do well tomorrow."