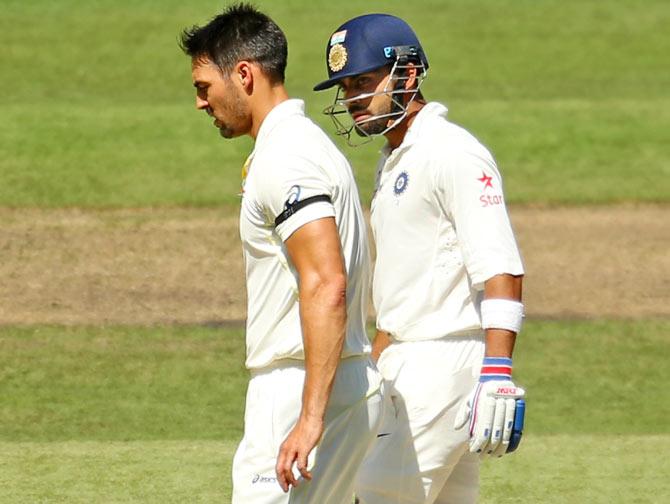 Virat Kohli, right, exchanges words with fast bowler Mitchell Johnson. Photograph: Scott Barbour/Getty Images
Never the one to shy away from an on-field showdown, new Indian Test skipper Virat Kohli has been engaged in fierce verbal battle with the Australian team during the ongoing Test series.
'Kohli is the guy to take India to the next level'
Team India have high tea with Australia PM Abbott
Cricket legend Sir Viv Richards has backed Kohli to continue playing aggressive form of cricket, saying that it brings the best out of him.
Kohli had said that he was called a 'spoilt brat' by the Australians and it brought the best out of him as he smashed a career-best 169-run knock at the Melbourne Cricket Ground.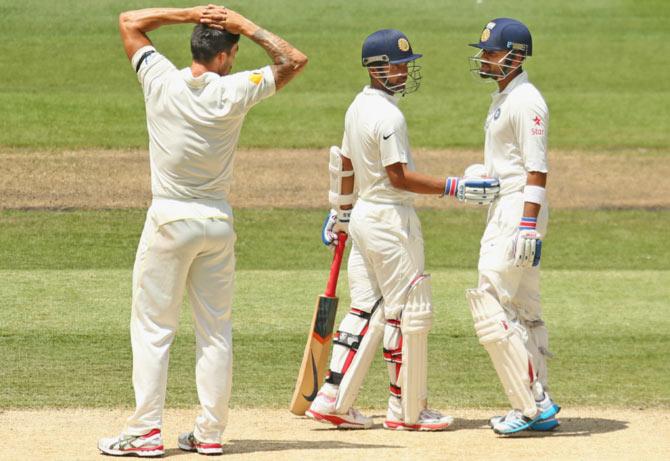 Virat Kohli, right, and Mitchell Johnson exchange words. Photograph: Scott Barbour/Getty Images
Kohli, who has amassed a staggering 499 runs in the ongoing Test series against India, was also involved in a verbal confrontation with a few Australian players. According to Kohli, he enjoys being the player opposition teams hate as he thrives on confrontation.
Supporting Kohli to continue playing aggressively, Richards said that this game has changed quite a bit and verbal confrontation was bound to happen, adding that as long as it's said in the best of manners, he didn't think it was going to be too disruptive to that particular individual, News.com.au reported.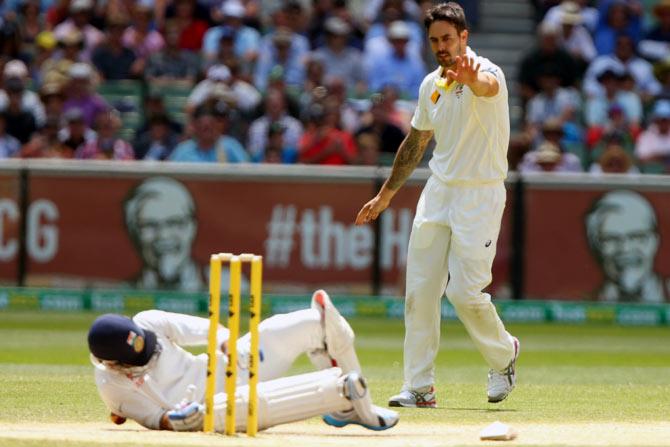 Mitchell Johnson apologises to Virat Kohli after hitting him with the ball while attempting a run out. Photograph: Chris Hyde/Getty Images
He further said that some of the past Indian teams would have crumbled on account of heavy sledging. However, Virat Kohli was one of those modern-day players who were a little bull-terrier in his own right, adding that he enjoys the contest, the report added.
Australia has taken an unassailable 2-0 lead and regained Border-Gavaskar trophy with the final Test match to be played in Sydney on Tuesday.