'We try not to over-complicate it, I think that is the key'
'We're trying to do exactly what we were doing four years ago, 10 years ago, 20 years ago. Nothing changes from our end'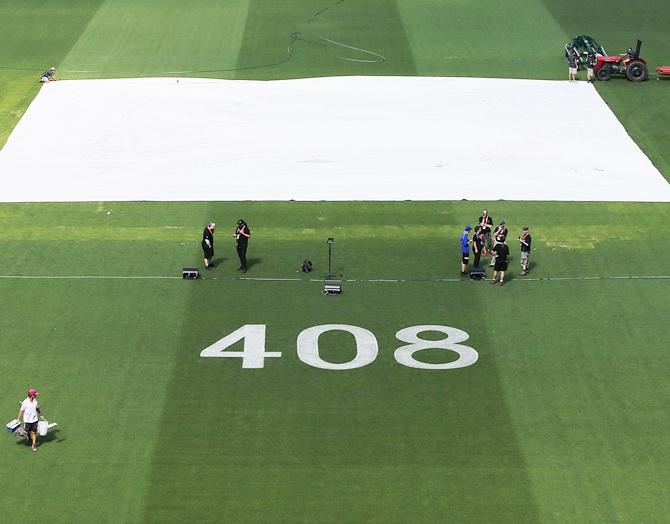 Image: A painter walks off after painting the number 408, the Test Cap number of the late Phillip Hughes, at Adelaide Oval. Photograph: Michael Dodge/Getty Images
The pitch for the opening Test between India and Australia in Adelaide will have something for everybody, curator Damian Hough has promised.
Hough, the curator of the Adelaide Oval, said it would be 'a typical' 22-yard strip on which pacers would have initial edge before it eases for the batsmen, while offering some turn to the spinners as well.
"Hopefully there is a little bit in it early, it's going to be good to bat on, and then take a little bit of spin and some inconsistency later in the game," Hough said.
A drop-in track is being used in the game but Hough said its core character would be the same as a traditional pitch.
"We try not to over-complicate it, I think that is the key, and then really leave it to the players. We're trying to do exactly what we were doing four years ago, 10 years ago, 20 years ago. Nothing changes from our end," he said.
"Hopefully it's a good pacey pitch early and then gets that natural deterioration as the game unfolds."
© Copyright 2022 PTI. All rights reserved. Republication or redistribution of PTI content, including by framing or similar means, is expressly prohibited without the prior written consent.