This effectively means from an average 97.5 days per year during the earlier cycle from 2015 to 2019, Kohli and Co. will play 76.5 days during the next cycle from 2019 to 2023.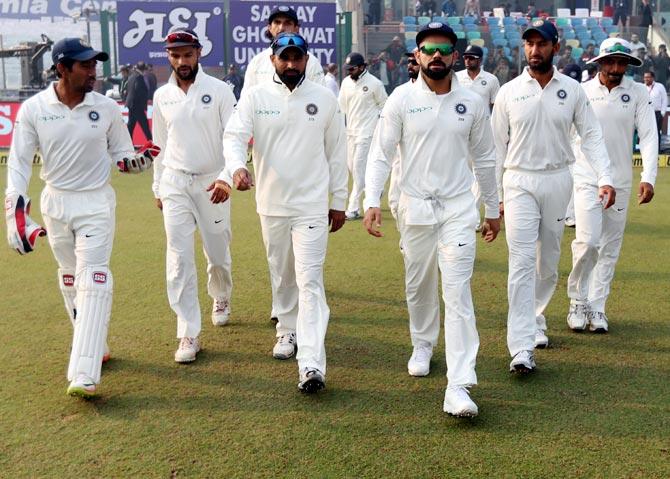 IMAGE: Captain Virat Kohli leads his team on to the field. Photograph: BCCI
India will host 81 matches across formats from 2019-2023, 30 more than the previous Future Tours Programme, but the number of playing days for the ever-busy cricketers will come down with the Board of Control for Cricket in India on Monday deciding to prune the Test schedule against lesser-ranked teams.

The revised FTP was agreed upon unanimously at the Board's Special General Body Meeting (SGM) in New Delhi -- a move that will see India playing more Tests against Australia, England and South Africa but also addressing captain Virat Kohli's complaints on player fatigue.

A working group, comprising all three office-bearers, will take a final call on this.

"Earlier, the proposed FTP for the five year cycle (2019-2023) had 51 matches across three formats. The new proposal has 81 home matches in that cycle," acting secretary Amitabh Chaudhary said after the meeting.

Chaudhary said that match days at home will go down by 20 percent, but there is a marked 60 percent increase in matches at home.

However, the series against lesser-ranked teams will come down, a top official PTI on condition of anonymity.

While the break-up was not provided, Chaudhary's brief made it clear that India will be playing an increased number of T20 Internationals at home while the bulk of big Test series will be against Australia, England and South Africa.

The format likely to be hit most will be bilateral ODIs.

"Half of our home games, we will play against the big three -- Australia, South Africa and England," Chaudhary said.

When asked that whether if it means that only four nations will play more Tests against each other, Chaudhary said: "You can say so."

Asked how Kohli's fatigue issue has been addressed, Chaudhary said: "During the 2015 to 2019, the Indian team, across formats (home and abroad), had 390 playing days. The new proposal between 2019 to 2023 will see them playing 306 days."

This effectively means from an average 97.5 days per year during the earlier cycle, Kohli and Co. will play 76.5 days during the next cycle.

"This excludes the ICC Champions Trophy and Cricket World Cup, both of which will be hosted by India in 2021 and 2023 respectively," he added.

The new FTP has been chalked out in order to ensure that BCCI can get a good broadcast deal when it's up for grabs from October 2018. The current broadcast rights with Star Sports ends in March 2018.

Among other issues, the BCCI decided to continue its legal fight against the defunct Kochi Tuskers, who recently won a compensation claim to the tune of Rs 850 crore.

"An arbitration was awarded to Kochi, which was challenged by BCCI. However, we had interaction with the erstwhile franchise on whether we could come to an out of court settlement.

"We then put the matter to our legal team. We have decided we must not settle this out of court. We will continue with legal procedure," the BCCI secretary said.

The conditional revocation of Rajasthan Cricket Association (RCA) happened on expected lines with a rider given to them that former Indian Premier League commissioner Lalit Modi, who is under a life ban from the BCCI, won't come back in the association in any capacity.

Also, the members were apprised of the letters written by the Sports Ministry and the National Anti-Doping Agency (NADA) about having BCCI as a signatory.

The house was unanimous that there is no need to come under NADA fold despite the body's active demand to carry out dope tests of the cricketers.

"We have told them that we have a robust system in place and we are already WADA compliant. Also our testing is done at the same NDTL lab where samples collected by NADA is tested," he said.