'I am not looking at my personal milestones'
'I am also not looking too much into what is foreign and what is local performance'
'Ravi Shastri is a very positive influence on the team'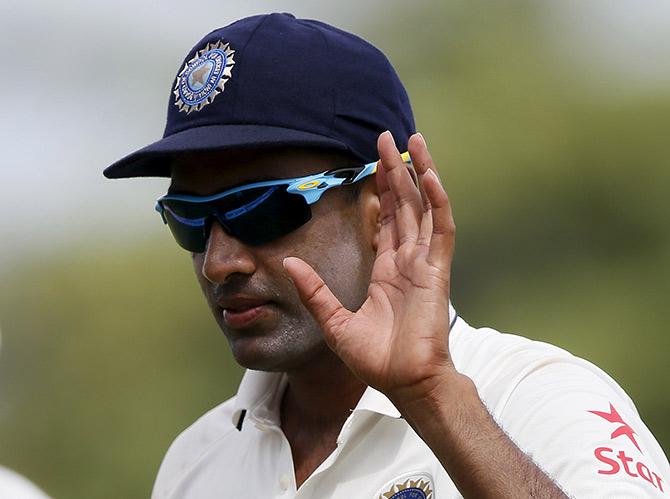 India's Ravichandran Ashwin waves after taking six wickets in the first innings on the opening day of the first Test against Sri Lanka in Galle. Photograph: Dinuka Liyanawatte/Reuters
After leaving the Sri Lankans bamboozled with a six-wicket haul, which gave India the upper hand in the first Test in Galle on Wednesday, Ravichandran Ashwin revealed he rediscovered himself after critically analyzing his bowling.
- Photos
"Some credit should go to Ravichandran Ashwin also," India's strike bowler said at the post-day press conference, adding, "Because I have taken stock of my own bowling, being a lot critical of myself, raised a lot of questions and got fruitful answers from both Bharat Arun (bowling coach) and Ravi Shastri (Team Director). That has actually enabled me to try and discover myself.
"I think nothing is a permanent feat in life as you start stagnating. I think you have to keep improving."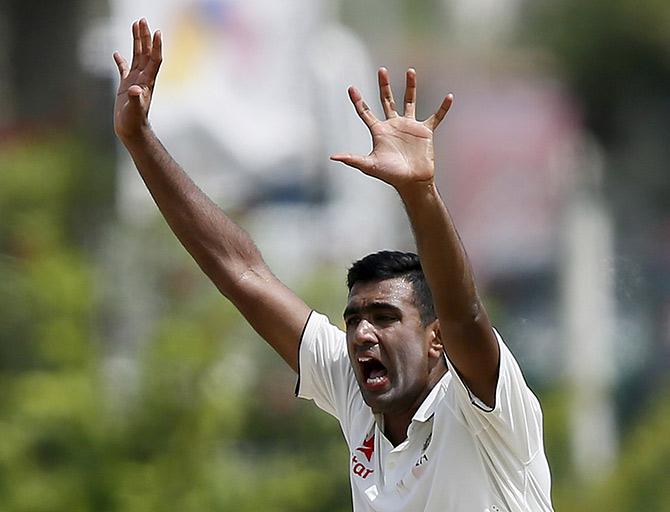 India's Ravichandran Ashwin appeals unsuccessfully against Sri Lanka's Dinesh Chandimal during the opening day of the first Test in Galle. Photograph: Dinuka Liyanawatte/Reuters
He did not conceal his joy on taking 6 for 43 in Sri Lanka's meagre first innings score of 183.
"I am very happy to do it on a consecutive basis," said Ashwin, referring to the 5-87 he took in Bangladesh on the preceding Test tour.
"I think it is more about how the game is. I am not looking at my personal milestones. I want to get better. The process is in place and its perfect. I am looking at it from that perspective.
He made it clear that he does not want to differentiate between home and foreign conditions.
"I am not looking too much into what is foreign and what is local performance. So I tried to put an end to that kind of feel.
"I want to move ahead and do better for the team. It's an extraordinary performance to bowl out a team in a day, especially in Sri Lankan conditions after having lost the toss," he added.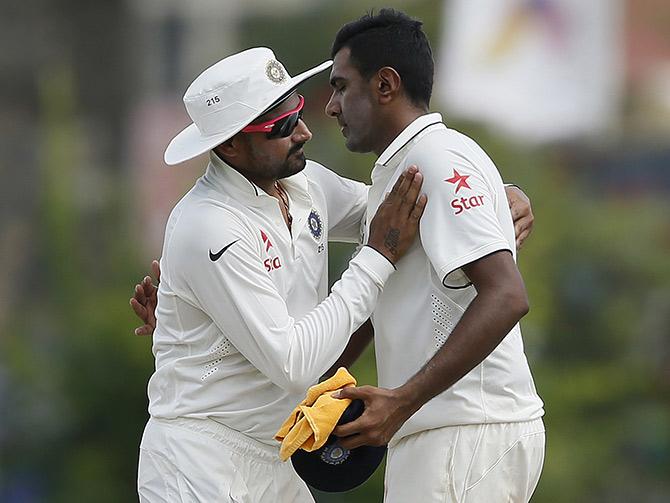 India's Ravichandran Ashwin (right) is congratulated by teammate Harbhajan Singh after taking six wickets in the first innings on Day 1 of the first Test against Sri Lanka in Galle. Photograph: Dinuka Liyanawatte/Reuters
He said speaking to Shastri was of great help.
"Ravi Shastri is a very positive influence on the team. When I was not playing in Australia, he (Shastri) came to me and told me why I was not playing. He gave me a bit of sympathy about why I am not playing.
"It is not generally something I look for. He has been a very positive influence. He tried to talk to me about things he experienced when he was in Australia. That's where it took off.
"I am someone who likes talking cricket and discussing cricket. Especially with him around... he is someone who enjoys the same pattern. When we talk and discuss a lot, new opportunities open up to try a few things and the improvement has already started."