Jacques Kallis scored his maiden Test double century and AB de Villiers blasted the fastest ever century by a South African to leave India with an uphill task to save the first Test, on day three at SuperSport Park, in Centurion, on Saturday.
South Africa declared their first innings on a mammoth 620 for four in 130.1 overs, but India made a strong comeback with the bat in the second innings. At stumps on the third day, India were 190 for two in 44.1 overs in their second innings, still trailing South Africa by 294 runs.
Earlier, Kallis smashed a career-best 201 not out from 270 balls, hitting 15 boundaries and five sixes. De Villiers blasted 129 from just 112 balls, slamming 12 fours and five sixes, including two in a row to complete his hundred in some style.
The two batsmen were unstoppable as they added 224 runs in 226 deliveries for the fourth wicket in an attacking display not regularly witnessed in Test cricket. De Villiers was at his attacking best and made a mockery of the Indian bowling attack to score a century from just 75 balls.
Sehwag and Gambhir then launched India's comeback with fluent half-centuries. Sehwag stroked 63 from 79 balls, with the help of nine fours and a six, before he was Paul Harris's 100th Test wicket.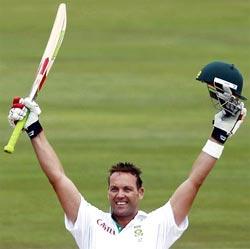 He added 137 runs in 177 balls for the opening wicket with Gambhir, who blossomed after a cautious start to score 80 from 122 balls, hitting ten boundaries, before he was trapped leg before wicket by Dale Steyn.
Hashim Amla continued his good run against India, He was dismissed after a brisk knock of 140 from 202 balls, including 14 fours and a six, caught down the leg side by wicketkeeper Mahendra Singh Dhoni off Ishant Sharma. He and Jacques Kallis put South Africa control as they put on 230 runs in 316 balls for the third wicket.
Harbhajan Singh was the most successful bowler for India, but went for a lot of runs as he claimed two for 169 in 36 overs. The inexperienced pace attack came under a lot of fire and rarely troubled the South African batsmen.
Grame Smith gave his team a good start, scoring 62 from 87 balls, adding 111 runs in 26.3 overs for the opening wicket with Petersen, who scored 77, laced with nine boundaries and a six in 114 balls.
Earlier, pacer Morne Morkel took five wickets as India were dismissed for a paltry 136 in 38.4 overs in their first innings.
The lanky Morkel used his height to good advantage, extracting a lot of bounce on a lively Centurion pitch to register career-best figures of five for 20 in 12.4 overs. Speedster Dale Steyn was equally lethal, claiming three for 34 in ten overs, while Jacques Kallis took one for 20.
Morning session: (36 overs, 225 runs, 1 wicket)
The same old story continued as South Africa piled on the runs with India looking clueless on how stop the onslaught.
India got off to the worst possible start, S Sreesanth starting the day with a no-ball, and a couple of deliveries later was smashed through the covers by Amla for a four, in the first over of the day.
Ishant was also hit through that same area in the next over as Amla got another boundary despite India having a packed off-side and a fielder on the point boundary.
Sreesanth suffered more punishment when Amla slammed him for two boundaries in a row on both sides of the wicket, in the 92nd over.
Amla quickly raced to 140 as he hit five boundaries in the span of a few overs to add 24 runs to his overnight tally and was threatening to make life worse for India.
But against the run of play, India struck with the key wicket of Amla. The right-hander was caught down the leg side by wicketkeeper Dhoni off Ishant after a brilliant innings of 140, having scored his fourth consecutive century against the Indians.
Amla hit 14 fours and six in his 202-ball knock, adding 230 runs for the third wicket with Kallis, to continue the carnage.
AB de Villiers seemed in a rush and started attacking from the moment he arrived at the crease. He got going by driving Ishant down the ground for a stylish boundary to take South Africa past the 400-run mark, in the 95th over. The right-hander then slammed Ishant for back-to-boundaries a few overs later.
Unadkat also struggled to contain the flow of runs and was hit for a boundary each by Kallis and de Villiers as South Africa reached 438 for three in 100 overs forcing the introduction of Harbhajan Singh.
De Villiers also went after Harbhajan as he swept him over square for his first six and then cracked Unadkat through cover for a four in the next over. He then employed the reverse sweep against Harbhajan for a boundary through thirdman and in the same over brought up his half-century from just 42 balls.
While Kallis was content to play second fiddle, de Villiers was looking to attack and he was particularly severe on Harbhajan, India's most experienced bowler.
He also punished part-timer Raina as he danced down the wicket and lofted him into the stands over long-on for his second six to help the hosts cross 500, in the 110th over.
Kallis then stroked Raina through the covers for a boundary to bring up his 150 from 210 balls.
De Villiers looked set to achieve the rare milestone of getting a century within a session of play. He carted Raina for a four and six off successive deliveries to race to 88 from 71 balls as India's bowlers seemed to be going through the motions.
He didn't waste time in the 90s and brought up the landmark in splendid fashion, hitting Raina for back-to-back sixes over midwicket. The right-hander took just 75 balls to get his 12th Test century and register the fastest Test century by a South African batsman and become only the second South African to get a century in a session.
The Raina gamble clearly misfired as he was hit for 77 runs in seven overs, having been hit for seven sixes.
Kallis, chasing his first double century in Tests, hit a huge six in the final over of the session to move to 183 (245 balls, 12 fours and five sixes). De Villiers had smashed his way to 119 off 94 balls, with the help of 11 fours and five sixes as South Africa assumed complete control of the contest.
At lunch, South Africa were 591 for three in 123 overs, having swelled their lead to 455 runs.
The Indian bowling card made sorry reading, all the bowlers conceding at more than four runs per over. Among the wicket-takers, Harbhajan was most successful with two for 169 in 36 overs, while Ishant took one for 102 in 24 overs.
Post-lunch session: (121 runs, 24.1 overs, 1 wicket)
Kallis got the first boundary of the session when he drove Ishant through the covers in the second over after the break. De Villiers restrained himself after the break before he got his first four by despatching a full delivery from Ishant through the cover region.
Kallis went past his career-best score of 189 with a single off Ishant and a first Test double hundred beckoned for South Africa's premier batsman. The crowd started cheering and Kallis provided them further joy by cutting a short delivery from Ishant through point for a four to inch closer as he reached 197.
The veteran then completed his maiden double century in Tests off 267 balls in fine style by flicking Unadkat through fine leg for four, his 15th of the innings.
The 35-year-old master batsman had finally managed to breach the 200-run mark in his 143rd Test and deservedly got a standing ovation from his fans.
Ishant then got the wicket of de Villiers, who was caught behind after a cracking knock of 129 from 112 balls, laced with 12 fours and five sixes.
And at the fall of that wicket South Africa declared their first innings on a mammoth 620 for four in 130.1 overs.
India were left to achieve the impossible to overcome a massive deficit of 484 runs with two-and-half days still left in the match.
Kallis finished unbeaten on a splendid knock of 201 from 270 balls, having hit 15 fours and five sixes.
There was nothing much to write about the Indian bowlers as each of them was carted all over the park. Ishant was the most successful with two for 120 in 27.1 overs, while Harbhajan claimed two for 169 in 36 overs and the rest went for plenty of runs.
(Indian innings)
The Indian openers, Virender Sehwag and Gautam Gambhir, flirted with danger early on as they attempted a few quick singles with the ball narrowly missing the stumps on a couple of occassions.
Sehwag got his first runs of the match when he drove Steyn through the covers for a boundary, in the third over. In the same over, Gambhir played an incoming delivery through square leg for another four.
Despite India facing a huge deficit, Sehwag continued with his attacking approach. He played and missed a few times before cutting Morkel over the point fielder for his second four followed by another one in the pacer's next over.
The opener took the attack to pacer Lonwabo Tsotsobe in his very first over when he pulled him for a six over midwicket followed by a four through point.
Tsotsobe again suffered in his next over when Sehwag drove past mid-off for another four. However, in that same over the right-hander (34) was lucky to survive when his uppish drive through the off-side was dropped by Amla in the covers.
India were off to a good start as they reached 54 for no loss in ten overs with Sehwag on 34 from 31 balls, and Gambhir on 16 from 29 balls.
Sehwag started to look more dangerous as he hit Tsostobe for back to back boundaries in the 12th over and finally India seemed to be showing their fighting qualities.
The dashing opener brought up his fifty off just 46 balls in his trademark fashion when he flicked Morkel through the leg side for a four.
Gambhir went on the attack in the final over of the session when he hit spinner Paul Harris for a couple of boundaries. He charged down the wicket and lifted over wide off the mid-on fielder and then cut a short delivery through point to end the session on a high.
At tea, India were 92 for no loss in 17 overs, still trailing South Africa by 392 runs. The openers had helped India make a good comeback with Sehwag stroking 51 from 50 balls and Gambhir 33 from 52 balls.
Post-tea session: (98 runs, 27.1 overs, 2 wickets)
Gambhir started the third session in exactly the same manner as he finished the last one. This time he hit Kallis for a couple of boundaries through the off-side to continue India's good showing in the second innings.
The left-hander (43) also benefited from South Africa's sloppy fielding when he was dropped by Alviro Petersen at point off Steyn, in the 19th over.
Gambhir came out in a positive frame of mind after the break. He moved across his stumps and flicked Kallis through the midwicket region for a four to bring up his half-century from 61 balls. In the same over, the left-hander hit Kallis through the square leg for another four as India raced to 122 for no loss in 20 overs.
South Africa then resorted to controllimn the flow of runs, but the Indians were also content to play the waiting game.
Gambhir, on 62, got another lifeline when Petersen again failed to hold on to a difficult chance as he played the cut shot against Morkel.
Just 14 runs came in nine overs without a single boundary before Sehwag decided it was time to break the shackles.
Sehwag danced down the wicket and tried to play the inside out shot against Harris over the covers but ended up holing a simple catch to Smith on the off-side to become the left-arm spinner's 100th Test wicket. Sehwag had helped India make a strong reply as he stroked 63 from 79 balls, with the help of nine fours and a six, adding 137 runs in 177 runs for the opening wicket with Gambhir.
South Africa captain Smith had played a big role in getting that wicket as he adopted defensive tactics and dried up the runs, which eventually forced Sehwag into committing that mistake.
Rahul Dravid was struck on his fingers by a quick rising delivery from Morkel and had to be attended by the physio. But he showed no ill effects of that blow and quickly got into the scheme of things as he hit two delightful boundaries off Harris on either side of the wicket.
In the next over, Gambhir hit Morkel for a couple of boundaries, through square leg and down the ground respectively to advance his score to 76.
Just when it looked India were looking comfortable and settled, Steyn provided the crucial breakthrough for the hosts. He trapped Gambhir leg before wicket with an incoming delivery that came in sharply and stayed a bit low. The left-hander was dismissed after a fluent innings of 80, having hit 10 fours in his 124-ball knock.
India decided to send nightwatchman Ishant Sharma with around 12 overs remaining in the day provided the lights didn't fade. He nearly lost his wicket but the inside edge off Tsotsobe missed the stumps by a few inches before play was stopped for the day.
At close, India were 190 for two in 44.1 overs, still trailing the hosts by 294 runs with eight wickets in hands and two more days to go.
Dravid was unbeaten on 28 from 48 balls, while Ishant did well to hang on for 16 balls to score seven.
Overall, the day belonged to South Africa's batsmen, who humiliated the Indian bowling but the visitors had something to cheer for after a strong start from their openers.