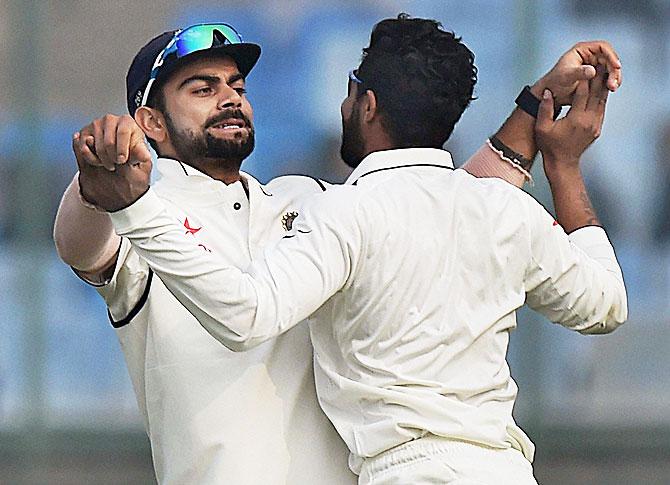 IMAGE: India captain Virat Kohli and his teammate Ravindra Jadeja celebrate the dismissal of South Africa's Hashim Amla on the final day of the fourth Test match at Feroz Shah Kotla Stadium in New Delhi on Monday. Photograph: Shahbaz Khan/PTI
India moved into second place in the ICC Test Championship table after beating South Africa in the four-Test series 3-0, in Delhi, on Monday.
The series result gave Virat Kohli's side 10 points, which lifted it from 100 points to 110 and ahead of Australia and Pakistan, who slipped a place each to third and fourth respectively.
Hashim Amla's side retained the number-one Test ranking but their lead at the top was slashed from 16 points to just four points.
India has no more Test matches before the annual April 1 cut-off date, but third-ranked Australia will host eighth-ranked West Indies in a three-Test series from December 10, sixth-ranked New Zealand will go head to head with seventh-ranked Sri Lanka also from December 10, while fifth-ranked England will travel to South Africa for a four-Test series, which starts in Durban on December 26.
To finish as the number-one ranked Test side at the annual cut-off date, South Africa will have to, at least, draw the series with England. Failure to do so will result in them falling from the top and handing the number-one position to Australia, provided they win the series against the West Indies 3-0.
ICC Test Championship points (as on December 7, after the conclusion of India-South Africa Test series)
1 South Africa, 114 points
2 India, 110
3 Australia, 109
4 Pakistan, 106
5 England 99
6 New Zealand 95
7 Sri Lanka 93
8 West Indies 76
9 Bangladesh 47
10 Zimbabwe 5