Former captain Rahul Dravid lavished praise on Virat Kohli, terming him the "best Indian batsman" on current form, and said that anchoring the stiff run-chase under pressure in the second Test against New Zealand would do his confidence a world of good.
"Virat has been fantastic. On current form, he is the best batsman in the Indian team. He has really grabbed the opportunities provided," said Dravid, who was invited by the official broadcasters as a guest commentator.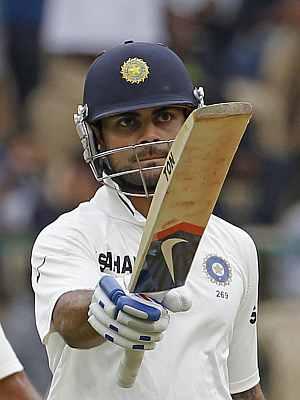 As Kohli along with skipper Mahendra Singh Dhoni successfully anchored India's chase, Dravid said that the experience of guiding the team to victory in the fourth innings will bolster his confidence.
"He (Virat) has Dhoni to guide him but this run chase ill certainly boost his confidence."
For someone who was termed as a wayward talent at the eginning of his career, Virat has come a long way, felt Dravid.
"I have been following his career since his U-19 days. As e was a part of the Royal Challengers Bangalore set-up, I have seen him closely. His talent was never questioned but he had some issues regarding mental discipline.
"When you watch a young player first, you would like to see him again after a period of three or six months. You would like to find out whether he has worked on his mistakes or not. That gives you an idea as what they are leaning.
"But I am glad he has learnt from his mistakes and has come up as an improved batsman. He had earlier issues about short-pitched stuff but he has now improved a lot," the veteran of 164 Tests stated.
Dravid named Rohit Sharma, Ajinkya Rahane and Manoj Tiwary as players who have the ability to make it to the Test grade.
"Rahane is a very talented batsman. His first few years with Mumbai Indians were tough as they had a strong batting line-up but he came to Royals knowing well that he would get chances and he made full use of those chances.
"At the end of the day, it's the playing time that is important for young players. You can learn a few things haring the dressing room but you actually learn the bigger things when you are there in the middle."
On a different note, Dravid seemed a bit critical about he "meaningless bilateral ODI series" that are being played.
"I believe that all three formats can exist. But I would like that ODIs should be restricted to only ICC tournaments like World Cup and Champions Trophy. With T20 cricket coming p big time, I am not sure about the benefit of having five or even-match bilateral ODI series.
"But it's great to see the amount of crowd coming for Test matches. This shows that Test cricket is still followed n traditional centres."
 Photograph: REUTERS/Vivek Prakash
© Copyright 2022 PTI. All rights reserved. Republication or redistribution of PTI content, including by framing or similar means, is expressly prohibited without the prior written consent.