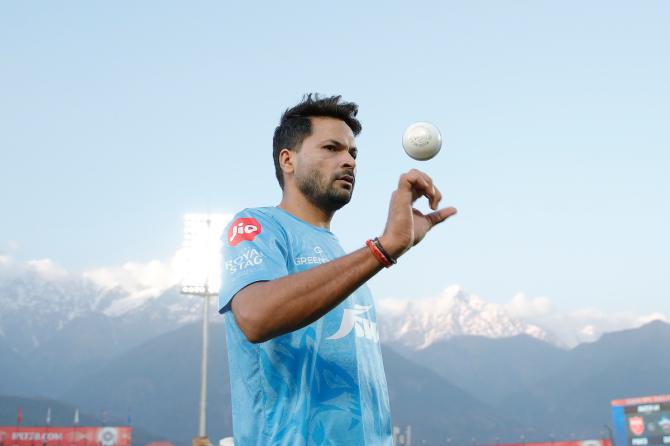 Zaheer Khan -- who took 311 Test wickets and is inarguably the finest left-arm fast bowler India produced -- lauded pacer Mukesh Kumar, predicting that he will be a valuable addition to the Indian Test set-up for the foreseeable future.
Mukesh, making his Test debut in the drawn second Test against the West Indies at the Queen's Park Oval in Port of Spain, took two crucial wickets during the game.
Speaking to Jio Cinema, Zak expressed his confidence in Mukesh's abilities, highlighting his composure and solid temperament during his first match.
'He looked good. There's no doubt about it. He had a good outing out there in his first match, was very composed that showed good temperament. And when you're looking at the bench strength of this Indian team, it's looking very solid. You can see say that Mukesh Kumar is going to be around in this set-up for a while,' Zak said.
However, Zak emphasised that Mukesh needs to add some extra pace to his bowling to thrive at the international level.
'It's up to him that how he takes things forward now from here and takes his bowling to the next level. I still felt that he needs to add that a yard or to his pace if he has to be really successful at this level. I can take a leaf out of (Mohammad) Siraj's book and how he has gone about doing his business,' Zak added.
Acknowledging the competition for places in the team, Zak encouraged Mukesh to be prepared for opportunities that might come his way, especially with the potential return of Jasprit Bumrah and Mohammed Shami to the side.
'You just need to nurture him and keep him with the team. He has to be ready every time because he's in that position where he might not get a long run. Bumrah might come back and Shami might come back,' Zak added.
'And then even if he's had a good outing, he might not get a get a game to play. So in that scenario,' Zak pointed out, 'it's important how you manage yourself because it can be a frustrating phase.'