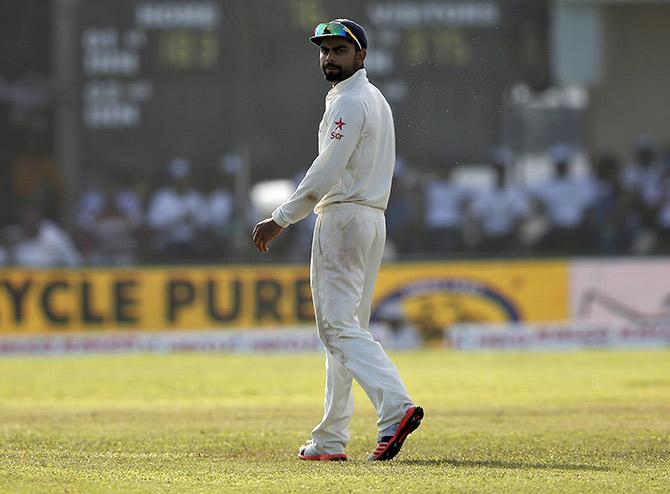 India captain Virat Kohli in action during the third day of the first Test against Sri Lanka in Galle. Photograph: Dinuka Liyanawatte/Reuters
Former captain Sunil Gavaskar says it wasn't a surprise that India struggled to wipe off the bottom half of the Sri Lankan batting line-up in the first Test in Galle, on Friday.
India had Sri Lanka on the mat, having reduced them to 108 for five by lunch but allowed them to score 367 in their second innings.
"Have a look at India's performance (in the past). Since 1932 when India played its first Test, they have struggled to get the bottom five, who add 200 runs to the total. It's nothing different. And on Day 2 and 3, the pitch settles and become better for batting," Gavaskar said.
"You can't be aggressive always. You have to be sensible and tone the expectations down a bit. (Virat) Kohli is a new captain. The pitch tends to settle down on Day 2 and 3, making batting easy."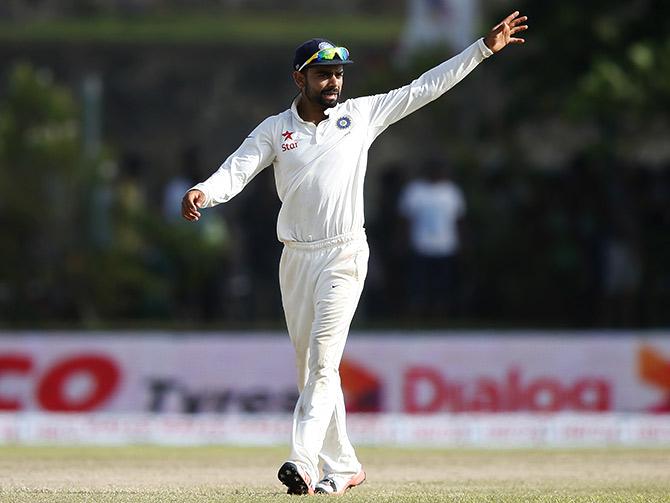 India captain Virat Kohli reacts during the third day of the first Test against Sri Lanka, in Galle. Photograph: Dinuka Liyanawatte/Reuters.
The former captain said India still look like winning the game and captain Kohli should not be blamed for not delivering the knock-out punch.
India have lost one wicket in a chase of 176.
"There will be ups and down. India can still win. They have been at it. The pitch is still okay. If Rangana Herath bowls better than the first innings, India have a job at hand. The credit should be given to (Dinesh) Chandimal and (Lahiru) Thirmanne.
Nothing can be taken away from them. I wont blame Kohli (that he ran out of tricks). Chandimal and Thirimanne took the attack to the bowlers. Chandimal was outstanding and Thirimanne batted superbly. Credit to these two players," he told NDTV.
Gavaskar said Harbhajan Singh was struggling since he did not bowl the right length.
"He is bowling the T20 length. He's struggling with the length. he needs to bowl little forward. That's why he's not getting the wickets. Ravi Shastri and Bharat Arun got to sit down with him and exchange ideas with him."