'We have a fabulous combination. The best part about all these players is that they are young and they will play for a while. I see this team playing together for 8-10 years and dominating world cricket'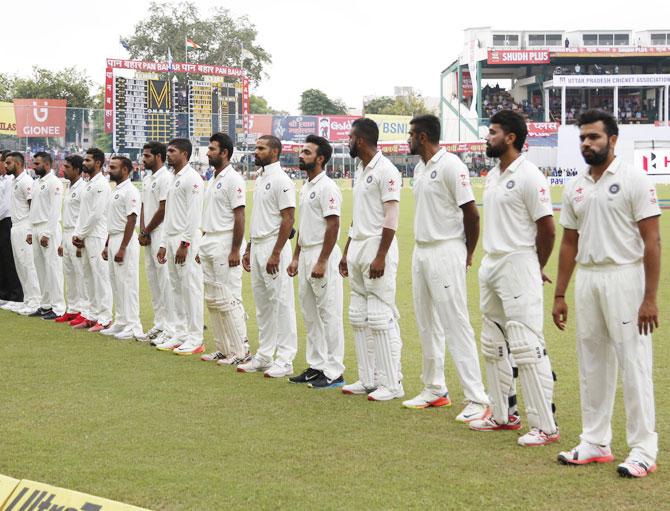 IMAGE: Indian players stand for the national anthem before the opening day's play of the first Test match against New Zealand at the Green Park stadium in Kanpur on Thursday. Photograph: BCCI
India's batting legend Sachin Tendulkar lavished praise on the current team led by Virat Kohli and believes that the core will remain same for the next decade.
"We have a fabulous combination. The best part about all these players is that they are young and they will play for a while. I see this team playing together for 8-10 years and dominating world cricket," Tendulkar, who is in Kanpur as a part of BCCI's 500th Test celebrations, told Star Sports.
The batting maestro, who has played 40 percent (200 out of 500 Tests) of India's 500 Test matches is happy with the balance of the side.
"We have the firepower, balance is really nice. If we continue to stick to these players, obviously there will be few changes here and there, but if players are fit, in proper shape and condition, we have bright days ahead," Tendulkar said.
IMAGE: IMAGE: (Left to right) Former India captains Sachin Tendulkar, Krishnamachari Srikkanth, Sourav Ganguly, Mahendra Singh Dhoni and Mohammad Azharuddin during a felicitation ceremony ahead of the start of the first Test at the Green Park stadium in Kanpur on Thursday. Photograph: BCCI
Tendulkar however said that those in charge of running the game should try to find a proper balance between bat and ball.
"There has to be a nice balance between bat and ball. The balance is not right as it's too much in favour of batsmen, to be fair. In T20s, batters go after bowlers. 300 is no more a safe target in ODIs. There has to be a format, where bowlers dominate the bat," Tendulkar said.
The highest run-getter in world cricket termed the pitch as a "typical Kanpur wicket".
"New Zealand will bat fourth in the match. It is a positive sign. Test cricket is about knowing when to pace up, when to slow down, how to play a full match for five days," he said.
On 500th Test, the iconic batsman said: "Being part of history, I would like to believe, we have also been able to influence the next generation and leave some impression behind."