England captain Andrew Strauss believes that it would be a tough test for Virender Sehwag as he embarks on his journey to lift the sagging spirits of the Indian team as they gear up for the third Test at Edgbaston starting on Wednesday.
"He (Sehwag) is a quality player; his record speaks for itself but then they (India) have quite a few quality batsmen. We back ourselves against anybody especially in these conditions. It would be a test for him as well for others," Strauss told at the pre-match media conference.
- PHOTOS: UK riots escalate, singe more cities
Sehwag is returning from a shoulder surgery with very little preparation besides the two-day tour match against Northamptonshire last week, where he scored just eight.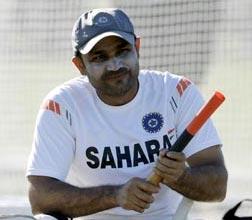 Although they are on the verge of becoming the Top Test natioon, Strauss and his boys are in no mood to take things lightly as Indians have the ability to bounce back.
"It can actually have a galvanizing effect (on them). India are a very strong side and in the last two Tests, we had our backs to the wall. We are not expecting anything different and we have to work very hard."
The England captain is mindful that his side lost the 1-0 advantage when they went down to Australia in Headingley during a home series in 2009 and were determined not to let that happen again.
"We have learnt our lessons from Headingley in 2009. We then made the mistake of looking too far ahead; we were waiting for the outcome rather than starting well."
Strauss also cautioned his team-mates against being complacent after back-to-back comprehensive victories.
"We are keen to keep ourselves grounded at all times; this is one of the circumstances we can`t look too far ahead. Win or no, we would still have our challenges ahead."
"We can only look to start well and be prepared to work hard as we did over the last two Tests."
England, if they secure a win at Edgbaston, would take an unassailable 3-0 lead in the four-match series and they would also seal the No. 1 ranking in Tests.
India, on their part, would have suffered only their second 3-0 loss in a series since losing to Australia in an away series in 2000-01.
"Number 1 rankings will come as a consequence of good cricket. The rankings are not on our mind; we need to start this Test well and hopefully get into a position to win it."
Strauss admitted the wicket appeared quite green at Edbgaston but is not sure if it would remain so after 24 hours.
He also welcomed the inclusion of Ravi Bopara in place of Jonathan Trott and admired the former's ability to bat as well as bowl a few overs.