Bikash Mohapatra reports from Edgbaston
He may have finished as India's best bowler even as England piled up a massive 710 for six in their first innings in the third Test. However, Amit Mishra did not make the headlines as much for wickets as he did for his no-balls.
The leg spinner bowled a whopping eight no-balls on the second day of the Test at Edgbaston and eventually ended up with nine from the innings.
Mishra gave a peculiar reason for his overstepping.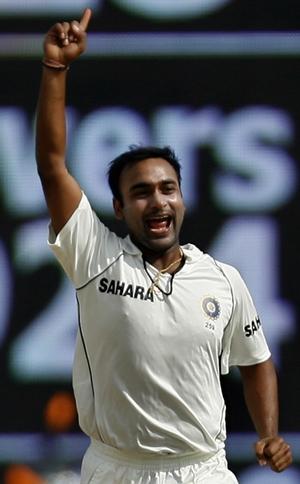 "The wicket was slow," he explained, adding, "so I was trying a bit too hard.
"Therefore, I ended up bowling so many no-balls on Thursday."
- India's tour of England 2011
He was, however, happy to have sorted out the problem the next day.
- When last 3 wkts scored more than top order
"I sorted out the no-ball issue today," he said, reflecting on his showing on Friday, the third day, which saw him bowl just one.
Mishra pointed out that the Edgbaston wicket has started to take turn.
"There's spin in the wicket," he explained.
"But there is no bounce. The wicket is now conducive for batting.
"I'm confident of our batting line-up. We are confident of drawing the match."