England coach Andy Flower has warned squad members that they need to remain hungry or face losing their places to the next generation of players.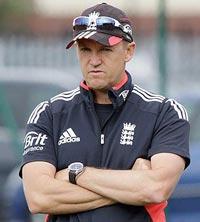 The Mirror quoted Flower, as saying: "If people aren't hungry enough, then I don't think they'll keep up with the side -- they'll drop out or be dropped out."
Flower's warning comes after he saw 21-year-old Jonny Bairstow, the son of former England wicketkeeper David Bairstow, play a swashbuckling unbeaten knock of 41 against India in the Cardiff one-day international to take the home side to a series win.
"He played with amazing composure. Not many people can strike the ball as cleanly as that or are that talented. I liked the blend of boundary hitting," Flower said.