Impressed with Rahul Dravid's gritty batting against England in a disastrous tour for India, former England captain Nasser Hussain said the senior batsman has shown some of his own team-mates what it takes to be an international cricketer.
Lauding Dravid, who scored three hundreds even as his team crumbled in the Test series against England, Hussain said the right-hander has shown exceptional mental strength.
- Dravid: Standing tall amid the ruins
"It is one thing to score runs when everything is in the batsman's favour on flat pitches but it is quite another to do it when everyone around you are losing their heads and failing," Hussain wrote in The Daily Mail.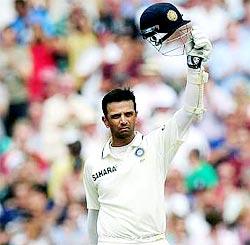 "For Dravid to stand up the way he has speaks volumes for his mental strength and character and he has been entirely selfless too in opening the batting when others, for whatever reason, have been unable to.
"Dravid has shown some in Indian dressing room what it takes to be an international cricketer. He is up there with Tendulkar as a legend of the game. He scores tough runs," he added.
Hussain said India captain Mahendra Singh Dhoni and coach Duncan Fletcher should hope that Dravid, set to retire from limited overs cricket after this tour, does not quit the longer version of the game.
"Dhoni and Fletcher will hope Dravid stays around for as long as possible to carry on setting right example for players coming into India side. They will not want him to exercise any thoughts about retirement for some time yet," he said.
- Exclusive interview: Rahul Dravid
Hussain criticised Gautam Gambhir for not coming out to bat on Sunday in India's second innings.
"If I had been Dravid I would have wanted to open India's second innings to carry on where I had left off but I can't understand why Gautam Gambhir could not have batted at three second time round. If his head injury did not stop him batting then he might as well have got out there and got on with it," he said.