In no way it could have changed the course of the match. However, it could very much have prolonged it, taking it into a fifth day.
We are referring to Rahul Dravid's dismissal in India's second innings of the third Test at Edgbaston on Saturday.
It was an unusual dismissal, to say the least.
James Anderson's perfect outswinger made Dravid play at it, and Matt Prior made no mistake behind the stumps.
Simple, one might feel. It wasn't!
The replays indicated Dravid's bat had hit the lace. The hot spot confirmed the same and Snickometer confirmed there was no edge.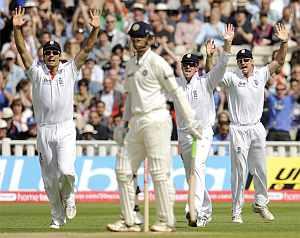 However, the bastman did not opt for a review, definitely not convinced about doing the same.
As he walked back to the pavilion, Dravid seemed to ask Sachin Tendulkar (the non-striker) something. He wasn't sure if he had hit it.
The veteran batsman had failed to add to his overnight score (18) when he was dismissed. Had he opted for a review, he would probably have got a second opportunity.
But the fact is he didn't.
Asked if Dravid was not sure, M S Dhoni found it difficult to explain.
"It's quite a difficult one," he admitted, adding, "If you see the chain of events that happened, it's very rare that the batsman hits the lace of the boot at its exact time when the ball passes him.
"Rahul wasn't 100 per cent sure about it, whether he nicked it or not.
"Maybe, now he thinks he should have taken the review, but the fact is he didn't, and it's gone now."
As it turned out, Dravid's dismissal was the second blow India received inside the first four overs on the fourth day -- and were reduced to 40 for three as a result.
The visitors went on to lose the match by an innings and 242 runs, and with it the series (3-0) as well as their No.1 Test ranking.