India's home cricket season 2016-17 comprises three Tests and five ODIs against New Zealand, followed by five Tests, three ODIs and three T20Is against England.
Australia will visit India in February-March 2017 to play four Tests and Bangladesh is slated to play a one-off Test in India.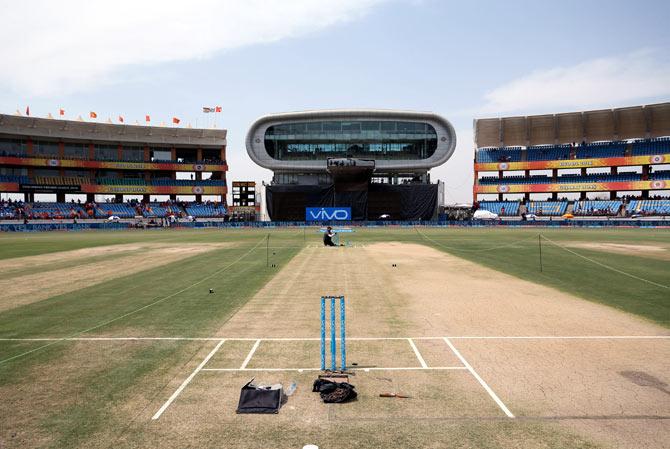 IMAGE: The Saurashtra Cricket Association Stadium in Rajkot. Photograph: BCCI
The Indian cricket team is set for a busy home season in 2016-17, with as many as 13 Tests, eight ODIs and three Twenty20 Internationals to be played in the country against New Zealand, England, Australia and Bangladesh.
The Board of Control for Cricket in India announced five new Test venues for the same on Thursday.
Rajkot, Vizag, Pune, Dharamsala, Ranchi and Indore were named hosts for the first time.
" 'India cricket', the home season, will start with three (3) Test matches and five (5) ODI's against New Zealand followed by five (5) Test Matches, three (3) ODI's and three (3) T20I's against England. Australia will visit India in February-March 2017 to play four (4) Test matches and Bangladesh is slated to play a one (1) off Test match in India," read a statement from BCCI secretary Ajay Shirke.
In another major decision by the BCCI, the Duleep Trophy will be played under lights with a pink ball. It will kick-off India's domestic season in September.
"I welcome the new Test venues hosting this prestigious format of cricket and their arrival will take Test match cricket to every corner of the country. We are equally excited about the domestic season as we will be playing the Duleep trophy with the pink ball under lights and take this opportunity to welcome Chhattisgarh, who will play Ranji Trophy for the first time. A combined team of Affiliate & Associate states will participate in the junior age group tournaments, which will provide the much needed opportunity to the emerging players from these areas. This further reaffirms our commitment to spread the game by providing the appropriate platforms to our next generation cricketer," BCCI president Anurag Thakur said.
The Duleep Trophy will be followed by the New Zealand series. Indore and Kanpur will host the first two Tests, while the historic Eden Gardens in Kolkata will stage the third and final one, which will could be India's first day-night Test with a pink ball.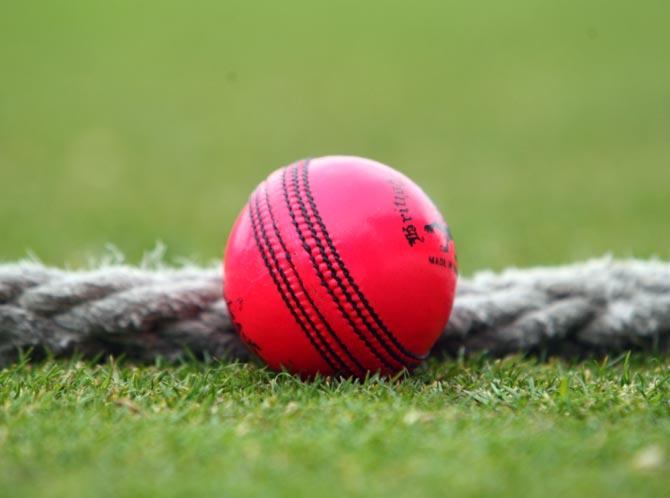 IMAGE: The pink ball used in the day-night Test match between Australia and New Zealand in Adelaide in November last year. Photograph: Tom Shaw/Getty Images
Dharamsala, Delhi, Mohali, Ranchi and Vizag will host the five ODIs against the Kiwis.
India will then host England, with the five Tests slated to be held in Mohali, Rajkot, Mumbai, Vizag and Chennai.
Pune, Cuttack and Kolkata will be the venues for the three One-Dayers, while Bengaluru, Nagpur and Kanpur will hold the three T20Is.
India's busy season will continue when Australia tours the country in February next year for a four-Test series, which will be hosted by Bengaluru, Dharamsala, Ranchi and Pune.

India will also host Bangladesh in a Test for the first time in their history. The stand alone match is scheduled to played in Hyderabad.

"All these venues will get matches subject to the condition that they have numbered the seats in the stadiums and fulfill all the guidelines laid down by the BCCI.
"During the entire season 918 matches will be organized that includes Ranji trophy, Vijay Hazare Trophy, Mushtaq Ali Trophy, Deodhar Trophy, Irani Trophy, Women's cricket and all other age group cricket. This translates into 1882 playing days between September 2016 to March 2017," the statement added.