A clinical all-round display earned India a comfortable seven-wicket victory over their counterparts from Australia and a berth in the final of the Under-19 Tri-nation series in Darwin on Monday.
Opting to bowl, India restricted Australia to 191 for six in the allotted 50 overs, before chasing down the target in 45.4 overs.
Aamir Gani (3/25) was the most impressive Indian bowler while skipper Vijay Zol (64) and Akhil Herwadkar (60) were the main contributors with the bat at the Marrara Oval.
The loss dealt a blow to hosts Australia's hopes of entering the final.
India, having coasted through the tournament unbeaten, were untroubled in the hot Darwin conditions, and it was always going to be a difficult task for the Aussies.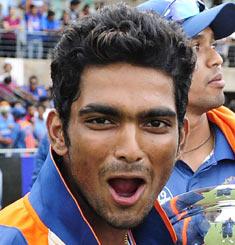 Australia's openers Matthew Short (34) and Tom Leaver (23) got off to a cautious start after being sent in to bat.
India's bowlers, led by Gani, bowled tight spells and capitalised on Australia's poor start.
Lower-order cameos from Jake Doran (41 off 52 balls) and Cam Valente (28 from 25 balls) boosted the total, but Australia's earlier struggle to get the ball past the infield dashed their hopes of posting a defendable target.
Matt Fotia (2/34) and Short (1/10) were Australia's wicket-takers.
While India topped the table, Australia are second, ahead of third-placed New Zealand due to a superior run-rate.
New Zealand will have an opportunity to overtake Australia when they play India in the last round match of the series on Wednesday.
Speaking after the match, Australia Under-19 coach Stuart Law said: "In these games, you've got to be able to score runs at fair pace and India have got some good batters; a few boys have played in the IPL already and have that experience. We've got some fantastic players too and as soon as they start understanding and believing it, we should start scoring a lot more runs."
The final is on Friday.
Scorecard
Australia Under-19:
M Short lbw Gani 34 (50)
T Leaver c Lamba b Gani 23 (64)
D Mortimer c Arothe b Saif 18 (59)
BR McDermott run out (Samson) 12 (28)
J Doran not out 41 (52)
AJ Gregory c Arothe b Hooda 13 (20)
M Kelly b Gani 0 (3)
C Valente not out 28 (25)
Did not bat: R Ayre, J Dunning, M Fotia.
Extras: (8lb, 10w, 1nb, 3b ) 22
Total: (for 6 wickets in 50 overs) 191
Fall of wickets: 1-59 (M Short), 2-79 (T Leaver), 3-104 (D Mortimer), 4-109 (BR McDermott), 5-135 (AJ Gregory), 6-136 (M Kelly).
Bowling: CV Milind 6-0-27-0, AR Lamba 10-2-39-0, RT Arothe 7-0-37-0, AA Gani 10-0-25-3, M Saif 7-0-16-1, D Hooda 10-0-36-1.
India Under-19:
AKS Bains c Ayre b Fotia 20 (24)
AA Herwadkar c Valente b Fotia 60 (82)
VH Zol c Mortimer b Short 64 (93)
SV Samson not out 24 (36)
M Saif not out 21 (40)
Did not bat: RK Bhui, D Hooda, RT Arothe, CV Milind, AA Gani, AR Lamba.
Extras: (0lb, 2w, 1nb, 0b ) 3
Total: (for 3 wickets in 45.4 overs) 192
Fall of wickets: 1-28 (AKS Bains), 2-145 (AA Herwadkar), 3-146 (VH Zol).
Bowling: M Kelly 10-1-35-0, C Valente 6.4-2-33-0, M Fotia 10-1-34-2, J Dunning 6-0-36-0, R Ayre 10-0-44-0, M Short 3-1-10-1.
Image: Vijay Zol
Photograph: Ian Hitchcock-ICC/Getty Images