With the Royal Challengers Bangalore skipper 81 runs short, Rajneesh Gupta presents the the run-machine's performance in IPL-9 and top scorers in a series/tournament.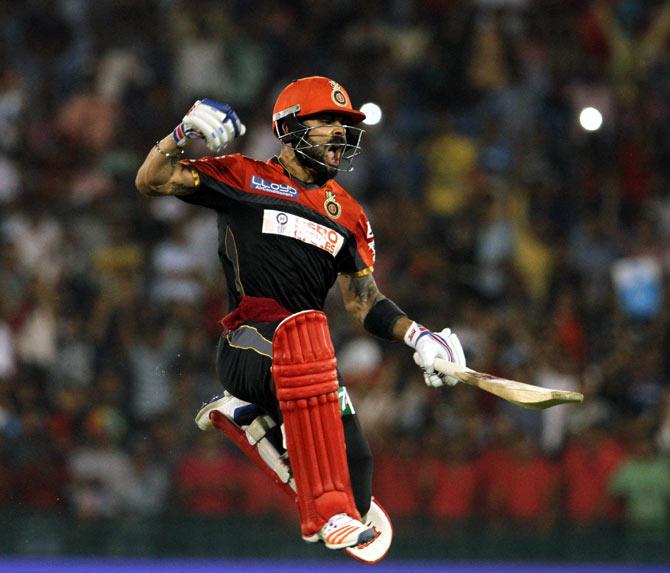 IMAGE: Virat Kohli celebrates after Royal Challengers Bangalore's victory over Delhi Daredevils, in Raipur, on May 22, 2016. Photograph: BCCI
Never in the history of cricket has a batsman scored 1,000 runs in a series or tournament (excluding domestic first-class competitions).
The great Don Dradman scored the most runs in a tournament, 974, in a five-match Test series against England in England in 1930.
The most runs a batsman has ever scored in a One-Day tournament are 686, by Greg Chappell, in the Benson & Hedges World Series Cup in Australia in 1980-81.
He did so in 14 matches in that tournament.
This is also a record for all List A matches (all 50-over matches).
The Twenty20 record is, as we now know, held by Virat Kohli (currently 919 runs).
The previous record was 733 – also in the Indian Premier League – on two occasions.
Chris Gayle had scored 733 for Royal Challengers Bangalore in the 2012 edition.
Australia's Michael Hussey scored an identical number the next year for Chennai Super Kings.
Now, Virat has a chance to create history.
He is 81 runs short of the target, having been dismissed for 0 in the IPL Qualifier 1 against Gujarat Lions.
With Royal Challengers Bangalore beating the Lions in that match by four wickets and making it to the final he has one innings to do so.
Most runs in a series/tournament
| | | | | | | | |
| --- | --- | --- | --- | --- | --- | --- | --- |
| | Runs | For | Vs | Season | Mts | Avg | Format |
| Don Bradman | 974 | Aus | Eng | 1930 | 5 | 139.14 | Test |
| Wally Hammond | 905 | Eng | Aus | 1928-29 | 5 | 113.13 | Test |
| Neil Harvey | 834 | Aus | SA | 1952-53 | 5 | 92.67 | Test |
| Viv Richards | 829 | WI | Eng | 1976 | 4 | 118.43 | Test |
| Clyde Walcott | 827 | WI | Aus | 1954-55 | 5 | 82.70 | Test |
| Garry Sobers | 824 | WI | Pak | 1957-58 | 5 | 137.33 | Test |
| Don Bradman | 810 | Aus | Eng | 1936-37 | 5 | 90.00 | Test |
| Don Bradman | 806 | Aus | SA | 1931-32 | 5 | 201.50 | Test |
| Everton Weekes | 779 | WI | Ind | 1948-49 | 5 | 111.29 | Test |
| Sunil Gavaskar | 774 | Ind | WI | 1970-71 | 4 | 154.80 | Test |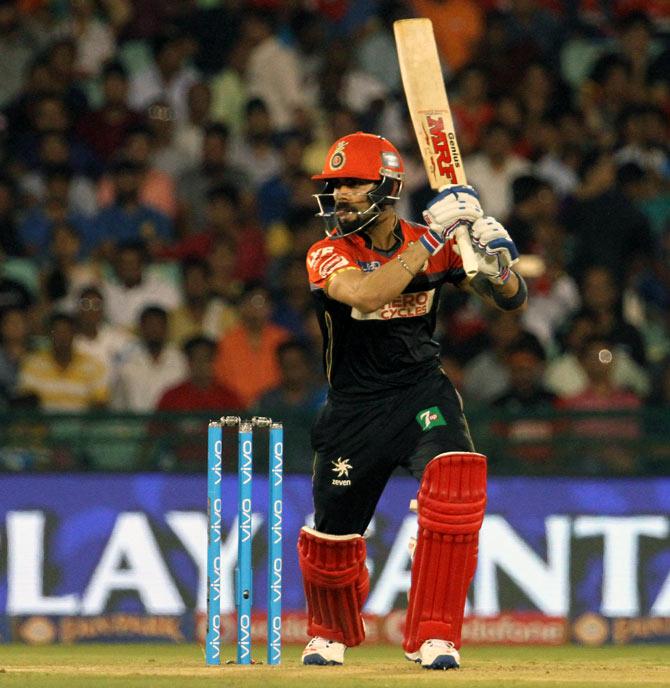 Virat Kohli in IPL 2016:
| | | | | | | |
| --- | --- | --- | --- | --- | --- | --- |
| Score | For | Vs | Inns | Venue | Date | Result |
| 75 | RCB | SRH | 1 | Bangalore | 12 Apr 2016 | Won |
| 79 | RCB | DD | 1 | Bangalore | 17 Apr 2016 | Lost |
| 33 | RCB | MI | 1 | Mumbai WS | 20 Apr 2016 | Lost |
| 80 | RCB | RPS | 1 | Pune | 22 Apr 2016 | Won |
| 100* | RCB | GL | 1 | Rajkot | 24 Apr 2016 | Lost |
| 14 | RCB | SRH | 2 | Hyderabad | 30 Apr 2016 | Lost |
| 52 | RCB | KKR | 1 | Bangalore | 02 May 2016 | Lost |
| 108* | RCB | RPS | 2 | Bangalore | 07 May 2016 | Won |
| 20 | RCB | KXIP | 1 | Mohali | 09 May 2016 | Won |
| 7 | RCB | MI | 1 | Bangalore | 11 May 2016 | Lost |
| 109 | RCB | GL | 1 | Bangalore | 14 May 2016 | Won |
| 75* | RCB | KKR | 2 | Kolkata | 16 May 2016 | Won |
| 113 | RCB | KXIP | 1 | Bangalore | 18 May 2016 | Won |
| 54* | RCB | DD | 2 | Raipur | 22 May 2016 | Won |
| 0 | RCB | GL | 2 | Bangalore | 24 May 2016 | Won |